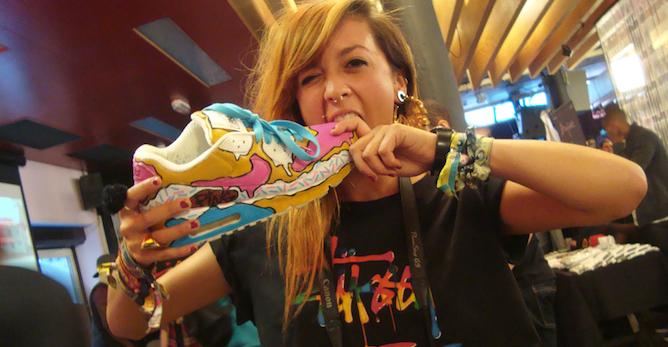 Growing up, I chose comfy trainers over glitzy heels until I needed to get into clubs. At sixteen, fake ID only got you so far and my stilettos took me further-but that came later. Before then, I was arguably more 'tramp' than 'tomboy'; riding around with boys and playing football until my school shoes were wrecked. Anything deemed feminine seemed embarrassing and I became completely fixated with trainer-culture. Inspired by the hip-hop scene, I'd ignore the high-heeled girls and obsess over rappers footwear. I remember waking up early to make a packed lunch so I'd save and combine my lunch and pocket money for new kicks. Priorities were sorted.
Occasionally, I'd see schoolboys waiting at the bus stop, with off-white socks and no footwear after getting robbed for their trainers. Aside from that, guys had it easier than girls. When shopping for trainers, I'd always look in the boys section first, as they always had the best pairs. The only problem, would be when I asked if they had my desired pair in a small size and they rarely did. Instead, they'd point me over to the girls section which was always a lot smaller and basically shit. After selling out and swapping my comfy kicks for glamorous heels, I've realised that nothing beats a pair of quality trainers.
Apart from obvious athletic reasons, trainers are loved by the fashion conscious and creative.  Not only are good trainers like walking on clouds, but they look great too. I interviewed Jessica, the stylish 24year old who co-founded Small Feet Big Kicks (or 'SFBK') – a website that specializes in selling great trainers in smaller sizes. It's aimed at girls. IKEA helped Jessica organize over 300 pairs of kicks, and made her bedroom look like something from a showroom. Featured on Bus advertisements from Canning town to Manchester, Jessica is proof that female trainer-culture is timeless.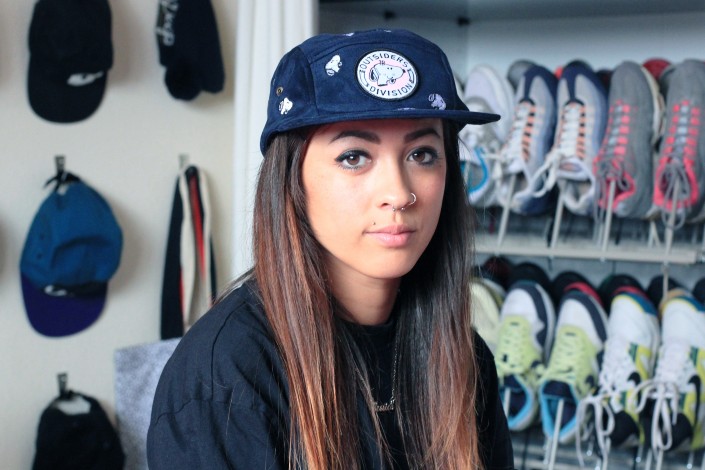 Mica: Your trainer collection is amazing, there's just loads of them! Would you say you're obsessed?
Jessica: I wouldn't say I was obsessed but I am passionate about trainers! [laughs] I don't own ANY shoes, unless you count kickers as shoes! Some people would argue I'm obsessed- but I'm not there just yet.
How many pairs of trainers do you own?
Last time I checked around 200 pairs.
How did you get in contact with Ikea?
Ikea were looking for people who had lots of 'stuff' but for a reason – a friend put my name forward, I got a call and had a little phone interview. Next thing I knew the Ikea team were in my flat having a look around and then I was told 'this is perfect!!' From there, all the planning and everything was completely out of my hands – it was all a surprise.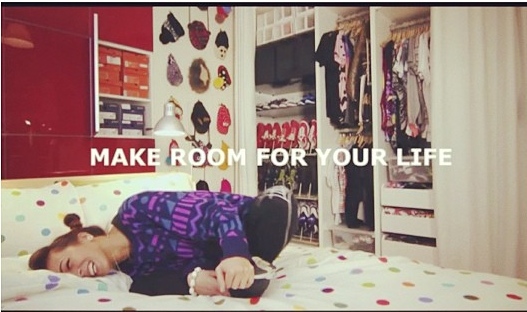 Check out Jessica's IKEA makeover:
[yframe url='http://www.youtube.com/watch?v=FV74wKOXlD4′]
You're even featured on bus stops from Camden town to Manchester! How was the feedback from that?
I got loads of positive feedback from all over!! Our followers were messaging and tweeting us. People from all over were telling us about how they'd seen the Ad all over the UK, which was surreal! It was great for publicity – it didn't necessarily affect our sales but it definitely increased the follower count.
I don't know of another UK site like yours. How did you start SFBK?
I started it with Indigoki almost 2 years ago, because there was nowhere really in the market that was specifically for girls. Girls always asked me where I got my kicks from, or asked me to find a pair for them so it seemed like the obvious thing to do.
It sounds quite stressy. How have you found it?
It's been a struggle but it's slowly paying off! The amount of people that buy stuff changes all the time. You can see a difference around loan time, or payday though.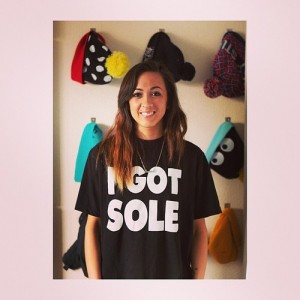 How many shoes have you had on the site?
Since it started, there's been 421 shoes on there…how many there are now I couldn't say, exactly! I do have some where I live but they're mainly stocked in my storage container.

Do you have another job?
I work as a supervisor in Topshop (flagship).
That's cool. Would you say working at Topshop influences your style?
I wouldn't say it influences my style so much, as my style is quite different but I guess it allows me to see current trends and find key pieces from elsewhere knowing where to get trend inspiration from. My style has always been the same really: Charity shop/bootsale finds, mixed with streetwear quirky prints, with a 90's/sports luxe feel. And anything OVERSIZED/
Is it difficult having two demanding jobs?
Yes! It's tough juggling a full time job with SFBK, as well as doing other projects and trying to have a social life- but it's definitely worth it! It's been nice to hear all the great feedback from our customers – that our shop is now the first port of call for a lot of girls when they're looking for trainers.

Well you've already achieved so much, but I know you won't atop anytime soon! What is your ultimate goal?
With Small Feet Big Kicks – to eventually have a shop in London and a more regular flow of stock. To expand our customer to a worldwide audience would be sick, and just continue to sell sick kicks! [laughs] Personally – I'd love to work with Nike as they're my favourite brand. Then in a few years live 6 months in the mountains snowboarding and 6 months in the sun! A girl can dream.
What is your advice for other girls who have a passion for trainers?

Buy what you like, not what you think is cool or is popular at the time. General releases are 'generally' quite dud. I love the underrated silhouettes and old school colour ways – they're so much better.
Thank you!
Follow Mica Dublin on Twitter: @MicaSpeaks
B: www.smallfeetbigkicks.com/blog