ISIS bride Shamima Begum should be allowed back into Britain and "given the support she needs", says Jeremy Corbyn.
Featured Image VIA
Despite the fact that this is a person who can't even pretend to feel remorse at leaving the UK and joining ISIS in the first place, Corbyn reckons the Home Office was wrong to strip her of her citizenship.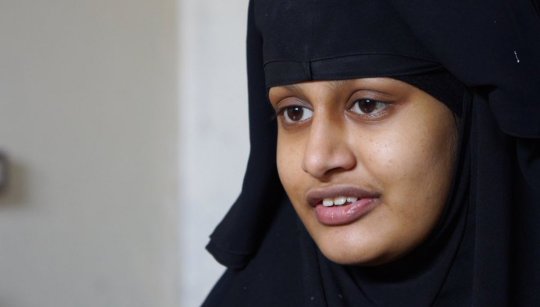 Corbyn told ITV:
She was born in Britain, she has that right to remain in Britain and obviously a lot of questions she has to answer but also some support that she needs.

She obviously has in my view a right to return to Britain. On that return she must face a lot of questions about everything she's done. And at that point any action may or may not be taken.

I think the idea of stripping somebody of their citizenship when they were born in Britain is a very extreme manoeuvre.

Indeed I question the right of the home secretary to have these powers when the original law was brought in by Theresa May when she was home secretary.
Watch below:
Well that's not going to do him any favours, is it? I'm starting to think this guy doesn't want to be PM at all.
I get what he's saying though, it's about due process. She was born in England and I guess radicalised in England before leaving to join ISIS, so as a home grown British terrorist you could argue she's our problem to deal with. Or… we could just make life easier for once and revoke her passport which is the option we went for and has gone down well with most British people from all backgrounds.
Who knows, maybe Corbyn is the mystery Labour politician who banged his head at a BDSM dungeon the other week. That could actually explain things.