Things did not go to plan for Jeremy Corbyn and the Labour party on December 12, but as a new year gets underway it seems that thousands of Labour supporters are keen for Corbyn to remain as party leader.
Featured Image VIA
This is despite the party suffering its worst election result since 1935 and many Labour members blaming this on Corbyn's poor campaign.
Corbyn's own brother Piers shared the Change.org petition to Twitter earlier, urging his bro to reconsider his decision to resign in 2020 – it has 13,000+ signatures thus far: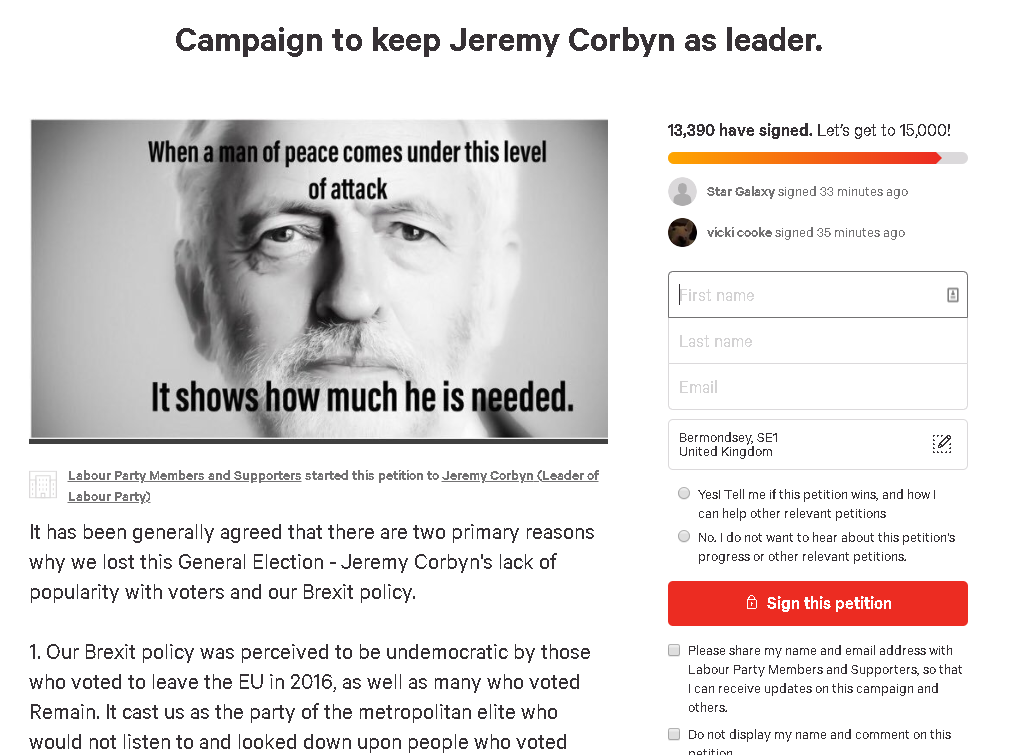 Piers Corbyn wrote on Twitter:
Sign this very very very important petition to support #Corbynshouldstay #KeepCorbyn #Corbynmuststand.

This is the way forward streets ahead of all else.

Do it now and pass it on.
The petition's authors wrote:
Let's stand up to the bullying establishment and refuse to play their games.

If Jeremy Corbyn wants to stay on as leader, we would support him 100%.
I don't think there's any chance this petition will change Corbyn's mind about stepping down as Labour leader, but hey, anything can happen in the crazy world of politics. Apparently there are 7 more likely candidates – 6 women and 1 man:
Rebecca Long-Bailey – shadow business secretary
Angela Rayner – shadow education secretary
Lisa Nandy – Wigan MP
Keir Starmer – Shadow Brexit secretary
Jess Phillips – Birmingham Yardley MP
Yvette Cooper – Pontefract MP (also Ed Balls's wife)
Emily Thornberry – shadow foreign secretary
To be honest probably any of those names would be a better choice than Corbyn at this point as I think the UK has outright decided that Jeremy Corbyn will never be PM. Whether that's down to alleged antisemitism, a lack of charisma, refusing to take a stance on Brexit or any other number of things, the Labour party on the whole needs a complete image revamp and the best way to do that is to find a new face and ideas for the party.
Also probably best that the party distances itself from Momentum types next time.
For the Dudley, West Midlands residents who are campaigning to rename Corbyn Road to stop house prices falling, click HERE.