People living on Corbyn Road in Dudley, West Midlands, have launched a bid to change the street name after the seat swung to the Tories for the first time ever.
Featured Image VIA
WalesOnline reports that residents on the 600m-long residential road fear the street name could send house prices – which currently average £140,000 – plummeting.
Dudley North was a staunch Labour stronghold until the Tories' landslide election victory last week, with Brexiteer Marco Longhi replacing Labour candidate Melanie Dudley – who funnily enough shares a name with her old constituency.
One resident of Corbyn Road says:
We've always known the name attracts attention and it didn't matter as much when the town was Labour but now it's associated with the worst Labour leader there has ever been.

The name must go. When you think Corbyn you think of racism and failure. I don't want the place I live to be linked with that.

House prices in this area are already struggling, the last thing we need is potential buyers being put off by the street name.
Another resident, Tom Robertson, added:
I'm a life-long Labour supporter but I've never liked the direction Jeremy Corbyn was going in.

It used to amuse my grown up children that I live on Corbyn Road but frankly it's now more of an embarrassment.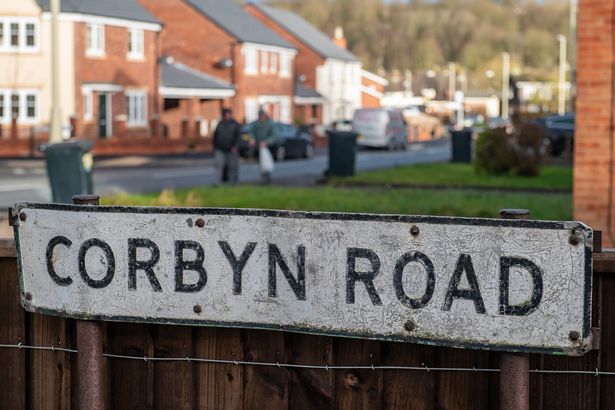 Yikes. Sounds like the residents of Corbyn Road don't like Jeremy Corbyn very much. Although if things had gone the other way and Jeremy Corbyn became Prime Minister then maybe they'd be quids in as far as the house prices on Corbyn Road go?
Either way, it looks like they're dead set on changing the name and so will have to come up with something else to replace it. How about Boris Lane? Diane Abbott Avenue? Or maybe something completely apolitical this time.
Someone should probably pinch the Corbyn Road sign before it happens though – would probably make a decent collector's item. Just ask the resident of Bell End in Northampton. Lol.