The internet was alive last night with the news that Jeremy Clarkson had been suspended from Top Gear – and the show was sensationally going to be snubbed this Sunday as a a result of it – for allegedly having a food fight and punching a producer. The official word from the BBC was that he was involved in a 'fracas' – great word btw – but that's the only official line we've had at the moment, aside from the fact that production on it has been suspended and this week's episode won't be broadcast.
A source relayed the following information about the incident:
It was all over a catering issue. They came to the end of filming after a long day and Jeremy discovered that no food had been laid on.

He just saw red and hit the assistant producer, who he blamed for not having organised the food. He snapped.
Featured Image VIA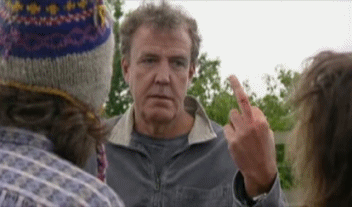 GIF VIA
Doesn't sound like the correct reaction, but sometimes that's what happens when you're hungry I suppose. According to The Sun though, Clarkson didn't seem too bothered at all about the incident – much like how he was when he was accused of racism last summer – and seems pretty confident of getting his job back fairly soon.
Here's what he said last night:
I'm enjoying my first afternoon off in a while and having a nice cold pint and waiting for this to blow over.
Wow. Sounds like he really couldn't care less. To be fair, Top Gear is one of the BBC's flagship programmes worldwide and without Clarkson it probably wouldn't be the same at all. There's also a petition doing the rounds to bring him back to Top Gear that probably has about 300,000 signatures by the time of writing this.
It certainly seems like the fans are on his side, so we'll wait to see whether this blows over or not – if it doesn't there are rumours that ITV are preparing a £10 million contract offer so it's not like he'll out of work for long anyway.
Clarkson's co-presenters on the show seem to be on his side, as does his daughter in the following 'comical' tweets that they were sending out yesterday:
No Top Gear this weekend, apparently. How about 633 Squadron instead? @JeremyClarkson @RichardHammond

— James May (@MrJamesMay) March 10, 2015
No, surely, Last of the Summer Wine; no one will notice the difference. Job done.@MrJamesMay @JeremyClarkson

— Richard Hammond (@RichardHammond) March 10, 2015
@MrJamesMay @RichardHammond I did some pretty good war documentaries. They could screen one of those.

— Jeremy Clarkson (@JeremyClarkson) March 10, 2015
https://twitter.com/EmClarkson1/status/575422615587811330