Remember Jennifer Love Hewitt? She was a pretty huge film star in the late 90s/early 00s, owing mainly – if we're being honest – to highly sexualised roles in which her boobs were on display 99.9% of the time.
Featured Image VIA
Well time offers us all some perspective, and Jennifer Love Hewitt has this week said that, looking back, the media's fascination with her body was actually kinda 'gross'. As reported by the NY Post:
"I definitely look back on it and go, 'ew,'" Hewitt said, adding that she recalls the focus being placed on her body after the release of the 1997 horror film, "I Know What You Did Last Summer."

The actress said she purposely wore a T-shirt that said "Silicone Free" to a press junket on because she was "so annoyed" and "knew something about boobs was gonna be the first question out of [reporters'] mouths."

"I was really tired of that conversation," she said. "With 'Heartbreakers,' that was a big part of it. I was disappointed that it was all about body stuff, because I had really worked hard in that movie to do a good job as an actress."
Well first of all, I get where she's coming from. I remember watching Heartbreakers on Sky Movies as a young lad and wanking myself into oblivion, for which I now unreservedly apologise. Like Jennifer Love Hewitt says, she had 'really worked hard in that movie to do a good job as an actress', so the fact people would sexualise her in any way whatsoever is just mind-boggling! Right? Right? Here's a look at some gifs from that movie: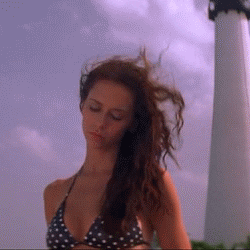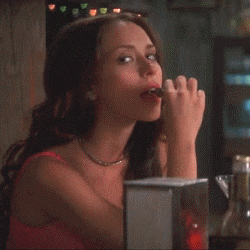 I mean if you're looking at those gifs and having sexual thoughts about Jennifer Love Hewitt, then shame on you. You are gross and disgusting and should probably seek therapy. I'm not even going to get into 'The Client List' in which she played a masseuse secretly giving men handjobs with her tits out every episode. Just because that show was literally about sex and prostitution it doesn't mean you have the right to sexualise Jennifer Love Hewitt! Again, she worked really hard as actress to be appreciated for her craft, not for her body which was the focal point of every movie she was in. Shame on me and shame on every other pervert who thought otherwise all these years.
For the recent Sharon Stone interview in which she says the director of 'Basic Instinct' tricked her into removing her underwear for that one infamous scene, click HERE. Now that was a dick move.