Jason Statham might not be winning any oscars any time soon, but there's no denying that he's starred in some absolute classic movies over the past twenty years – just look at some of the stuff he's been in like The Transporter franchise, Crank, Fast and Furious and The Expendables.
Featured Image VIA
However, it looks as though his latest role could possibly the greatest he has ever undertaken – or perhaps that anyone has ever undertaken. Statham has recently finished filming a $150 million epic entitled 'The Meg' which probably doesn't sound that exciting, but when you find out what 'The Meg' is actually referring to then it'll definitely set your pulse racing.
Here's the official synopsis: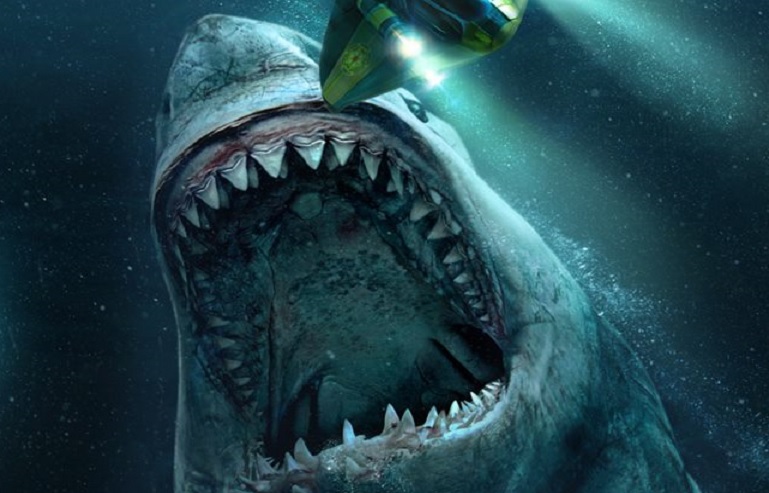 In the film, a deep-sea submersible — part of an international undersea observation program —  has been attacked by a massive creature, previously thought to be extinct, and now lies disabled at the bottom of the deepest trench in the Pacific… with its crew trapped inside.

With time running out, expert deep-sea rescue diver Jonas Taylor (Jason Statham) is recruited by a visionary Chinese oceanographer (Winston Chao), against the wishes of his daughter Suyin (Li Bingbing), to save the crew —and the ocean itself — from this unstoppable threat: a pre-historic 75-foot-long shark known as the Megalodon.

What no one could have imagined is that, years before, Taylor had encountered this same terrifying creature. Now, teamed with Suyin, he must confront his fears and risk his own life to save everyone trapped below…bringing him face to face once more with the greatest and largest predator of all time.
I mean that's right: 'The Meg' is actually a giant 75 foot shark that Statham is going to have to go toe to toe with in order to save that unfortunate crew. Jon Turteltaub – who directed National Treasure – is at the helms and Rainn Wilson and Ruby Rose are also on the cast list, so this doesn't sound like it's just going to be some low budget B movie either. This sounds like it's going to be big.
Unfortunately, there aren't any trailers yet but I'm hearing that the first one is set to drop this month before an August release date. Can't wait.
For more Jason Statham, check out this old video of him dancing in his pants. Really something else.