If, like me, you're not familiar with the Japanese motorbike scene, then you'd be forgiven for not knowing about the @azusagakuyuki Twitter account – a page dedicated to the biking exploits of a delightful young Japanese lady named Azusa.
Azusa has 20,000 followers and is something of a big deal in Japan's motorbike scene. Although that might change now that a Japanese TV show revealed that Azusa is really just a 50-year-old Japanese bloke using FaceApp. Whoops!
'Goddess' Japanese biker turns out to be 50y/o man using FaceApp https://t.co/W7IZw4oNtm

— TOC News (@tocsg) March 18, 2021
The truth only came to light after Azusa's followers realised that no one had ever seen her in person, and also spotted a reflection of a middle-aged man from the rear mirror in one of her photos. That prompted the Japanese TV show to track 'Azusa' down and discover the 50-year-old man behind the selfies.
The man named Zonggu confessed he had been using the face-changing app to make himself appear as a beautiful young woman because he wants to share pictures of him cycling but "nobody wants to see an uncle".
In the past, only a dozen people would like my photos, but now I gained more than a thousand likes.
【月曜から夜更かし】宗谷の蒼氷さん

知らない世界があるもんだ。確かに若い女性がバイクに乗ってたら格好良く見えるけどね#宗谷さん#月曜から夜ふかし pic.twitter.com/pJGzkmN5kx

— 先輩のハト. (@senpai_hato__) March 15, 2021
Wow. Here's more of Mr. Zonggu's digital trickery: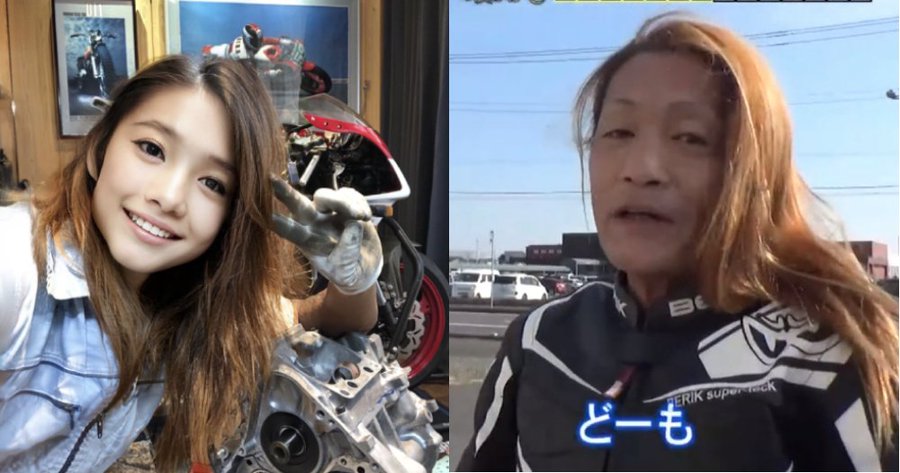 Despite how betrayed the Japanese biking community must feel right now, I actually understand why Zonggu had to do this. The guy has this huge passion and knowledge for bikes, amazing free-flowing hair, and knows his way around social media. But no one was interested in what he had to say until he transformed himself into a woman in her early 20s. As soon as he did that he started racking up a following and turned himself into a legend.
Yeah it's true that social media can be a brutal place for women but it's also true much of the power of social media is wielded by women. If you're an attractive female model, especially in a niche scene like Japanese motorbiking, then you're basically all-powerful. Zonggu not only figured that out but proved it as well. We may not ever be able to trust him again, but I think we can all find it in our hearts to forgive him. Fair play to you, Mr. Zonggu. Fair play indeed.
For a look at Japan's renowned 1970s rockabilly scene, click HERE. Awesome.