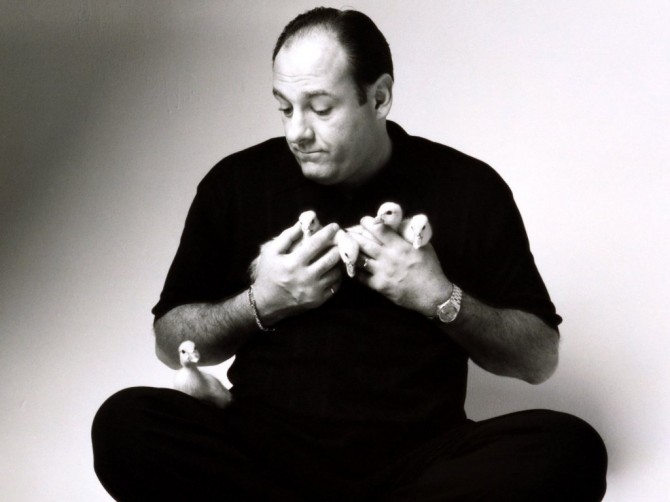 James Gandolfini has died aged 51.
Gandolfini, most famous for his role playing Tony Soprano in The Sopranos has reportedly died while visiting a film festival in Italy. Initial reports claimed Gandolfini died from a fatal stroke, but updated reports are that the star has died from a massive heart attack.
You probably shouldn't read any more of this if you haven't seen The Sopranos because there's some big spoilers – I wrote it earlier and figured everyone in the world had seen The Sopranos, you know because it finished about seven years ago, but I guess that isn't the case. Apologies. Or LOLZ depending on how you look at it.
If you know anything about television then you probably watched The Sopranos because it's pretty much one of the best television shows ever, and James Gandolfini was a pretty massive part of that because he completely killed it as Tony Soprano. I think my favourite episode was when he killed Christopher (soz if you haven't seen that episode yet) and then went to Vegas and did peyote and won loads of money and a bunch of other stuff happened.
Anyway, he was pretty great at doing comedy, being a family guy and being a complete and utter G in that, which is probably why pretty much every other role he ever had was as a gangster. Although I do remember seeing him in some kind of musical movie once where he actually turned out to be a pretty good singer. Who would have thought huh?
I guess being such a 'big' guy probably contributed to him having a heart attack – clearly I'm an expert in medicine before you trolls get in there – but he couldn't have been Tony Soprano without looking like that so you know, fair play to the dude. Great actor, great dude from the looks of things.
Here's those two scenes I talked about earlier from my favourite episode of Sopranos. Thanks for a great six (seven because of the fact season 6 was split in two?) years James, and all the rest.
[yframe url='http://www.youtube.com/watch?v=4zFM00-rOMo']