James Franco won the Golden Globe last night for Best Performance Of An Actor In A Motion Picture — Musical Or Comedy for his role as Tommy Wisseau in The Disaster Artist and whilst most people would probably agree his performance was deserving of this award, unfortunately for Franco a bunch of people started calling him out over inappropriate sexual behaviour following his win.
Images VIA
The first and most prominent detractor is Ally Sheedy, who starred in The Breakfast Club back in the 80s and was recently directed by Franco in an off Broadway production of The Long Shrift back in 2014. Although Sheedy doesn't actually accuse Franco of something, it seems pretty clear from her town that something obviously went down between the two of them during that period: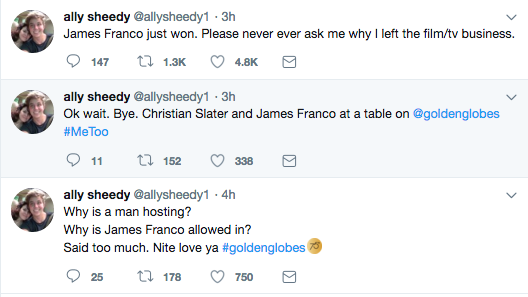 Not exactly leaving any doubt about what she thinks about James Franco (and Christian Slater to a lesser extent) there, although the tweets were pretty hastily deleted which means we might never get to hear her full story. Other random women were quick to call out Franco too for wearing a #TimesUp pin during the ceremony too:
Cute #TIMESUP pin James Franco. Remember the time you pushed my head down in a car towards your exposed penis & that other time you told my friend to come to your hotel when she was 17? After you had already been caught doing that to a different 17 year old?

— Violet Paley (@VioletPaley) January 8, 2018
https://twitter.com/sarahtk/status/950165990213496832?ref_src=twsrc%5Etfw&ref_url=http%3A%2F%2Fuproxx.com%2Fnews%2Fally-sheedy-james-franco-golden-globes%2F
quick ask Franco about the difference between skeezing on undergrads and sexual harassment

— Anne Helen Petersen (@annehelen) January 7, 2018
Whatever I still remember James Franco trying to pick up a teenager on Instagram

— Jessica Valenti (@JessicaValenti) January 8, 2018
Yeah, definitely seems like Franco hasn't exactly got the cleanest hands there from what all those women are saying, but until someone comes out and full on exposes his sleazy behaviour then we can only speculate about what's been going on.
However, having said that there was the completely weird time a couple of years ago when he actively tried to pick up a teenager on Instagram that was kinda laughed off as promo for a new movie. Remember that because it was really messed up? Maybe #TIMESUP on James Franco pretty soon.