Thirty years ago, a 5-year-old boy named Levan Merritt fell into a zoo's gorilla enclosure and was knocked out cold, breaking his arm and fracturing his skull in the process.
Featured Image VIA
Onlookers thought things were about to get a whole lot worse when a giant male silverback gorilla named Jambo approached Levan's KO'd body, but it turned out all he wanted to do was protect him from the other apes in the enclosure.
In fact, the 7ft tall 18 stone gorilla stroked Levan's unconscious body before leading the rest of the apes into their shelter so as to allow ambulance worker Brian Fox to jump down 20ft and get Levan out of there.
Watch the incredible footage below:
Now 35 years old, Levan, from Horsham in West Sussex, has spoken out about how the 1986 incident shaped the rest of his life.
He says he was bullied throughout school with names like 'Tarzan' and 'gorilla boy', but it wasn't so bad because he used the story to impress the girl he ended up marrying — his wife Amanda:
She couldn't believe it was me and that's saying something as she's not easily impressed. She was first told by my friends a few months after we got together and she didn't believe them and thought they were winding her up, until I told her. She was shocked and thought it was incredible.

Shortly after, we were round her house and it was on TV and she thought I was a TV celebrity which was quite amusing.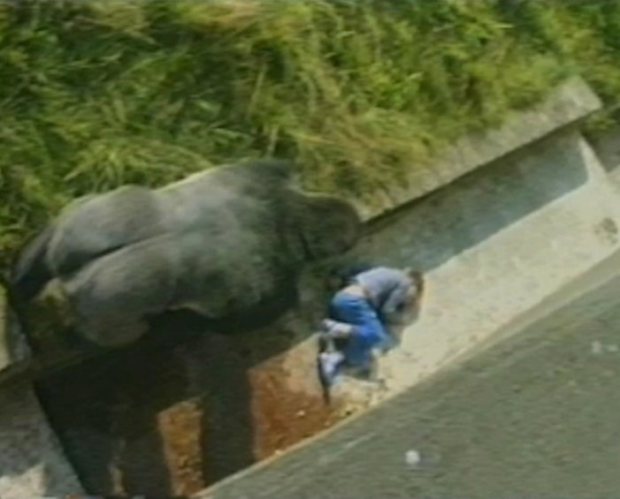 Levan spent 6 weeks in Southampton hospital at the time recovering:
The first I saw of the video was in hospital and I remember being incredibly surprised and quite shocked. I obviously couldn't believe what had happened.

I am forever thankful to Jambo as obviously it could have gone one or two ways. It was amazing how he protected me in that way.
Jambo died in 1992, but Levan was invited to the zoo shortly after to erect a bronze statue in his honour: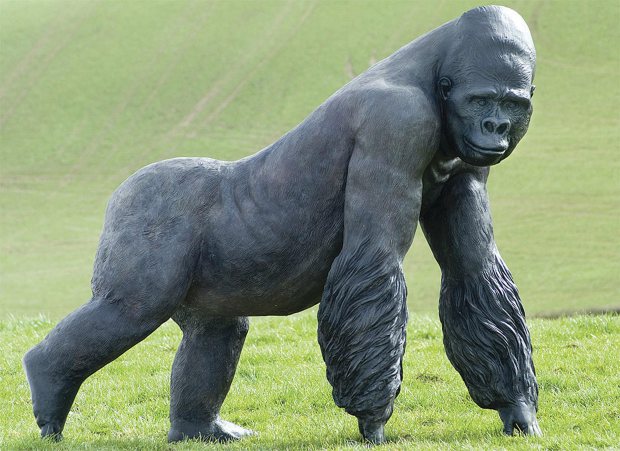 Image VIA
Awesome.
If only gorillas were that kind to each other.