Ja Rule has been picking up Ls at an alarming rate recently. First he got absolutely dragged for his involvement in the disaster that was the Fyre Festival, and now he's given perhaps the most awkward musical performance of his career in front of the quietest crowd in concert history.
Featured Image VIA
Ja had been invited to perform at halftime for the Milwaukee Bucks basketball team as part of the franchise's '90s-themed night'.
Let's just say the crowd did not care for him or his music at all:
Yikes. Ja Rule just can't catch a break can he? Going from being one of the most popular rap acts of the early 00s to a living, breathing, musical meme. I don't think even a single person in that audience made a peep for him other than one or two who were being polite. That crappy joke at the beginning probably didn't help things either. 
Is Ja Rule bothered though? Apparently not: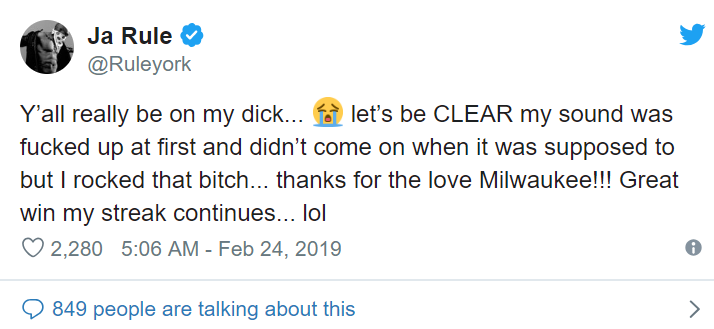 Oh well, I guess he's just happy that he's still being booked, whether it's a 90s night or 00s night or whatever.
Wonder what 50 Cent thinks about it? Their 'beef' ended a decade ago but 50 still can't stop trolling him.