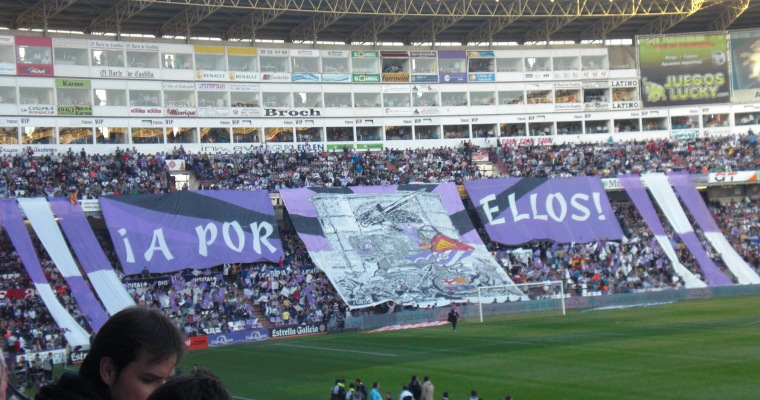 When you ask somebody about Spanish football, more often than not they wouldn't be able to tell you much more than the top two teams; FC Barcelona and Real Madrid. Then the cleverer amongst us will tell you about the threat of Valencia, Villarreal, Sevilla and Atletico de Madrid et al. However, there is a club that, in my ever so biased eyes, deserves some recognition. They are my adopted Spanish team, Real Valladolid.
Currently plying their trade in Spain's Segunda Division, Real Valladolid have struggled in recent seasons. In 2009, they avoided relegation on the final day of the season. The five home league matches I went to during this season, from the 450 minutes (plus stoppage time) of football played, Valladolid scored an earth shattering 2 goals! The following year they were unable to repeat their final day heroics and were relegated. I will add, it was nigh on impossible we would stay up going into the final day considering our last game was an away tie at the Camp Nou, where a Barcelona win would mean being crowned league champions.
In our first season in the second tier, where we were expected to achieve promotion, we finished a disappointing seventh but made the play-offs on a technicality. FC Barcelona 'B,' who finished in the play-off places were not permitted to compete due to the fact that they are not allowed to play in the same league as the Barcelona first team. However, we were eliminated by Elche in the semi finals. This season, under new coach, Miroslav Djukic, we find ourselves in a respectable 4th place at the time of writing – 4 points behind those in the automatic promotion place.
Away from football, it is a club with massive financial difficulties. Star striker Javi Guerra was the subject of interest from Rangers in the January transfer window with the club ready to cash in, despite it being a shared opinion amongst fans that Javi Guerra is key to Valladolid's chances of gaining promotion to the Primera Division. It's hard for a club to survive in a league where only the top two's interests are only really looked after. Add to this that the smaller Spanish clubs rarely sell out their games because the majority of 'fans' will only go to games that they are certain to win or if one of the top teams are visiting. Even while still in the Primera Division, Valladolid were struggling to half-fill their 26000 seat stadium, El Estadio Nuevo Jose Zorrilla. They can't even rely on tourism to try and bump up their attendance figures as it is not a well known city outside of Spain. Now I'm not saying pack your bags and go to Valladolid to watch a football game. Just don't NOT do it.
Check out the following pages for my thoughts on the current team and past superstars who have played for Real Valladolid and some highlights.