The golden rule is any customer service job is that the customer is always right and I thought everyone knew that, but it turns out that Maximo's Italian Bistro in London didn't get the memo.
Images VIA 
Maximo's has come to national attention following their decision to respond to a Trip Advisor criticism with the most vitriol possible and instead of just agreeing on their shortcomings with the customer, telling them to go eat cow dung instead. The whole incident is made even funnier and weirder by the fact that the problem was that waiter in the restaurant refused to put Paremsan on seafood as it wasn't the Italian way of doing things, and the waiter steadfastly refused to do this despite multiple requests.
Here's the full TripAdvisor exchange: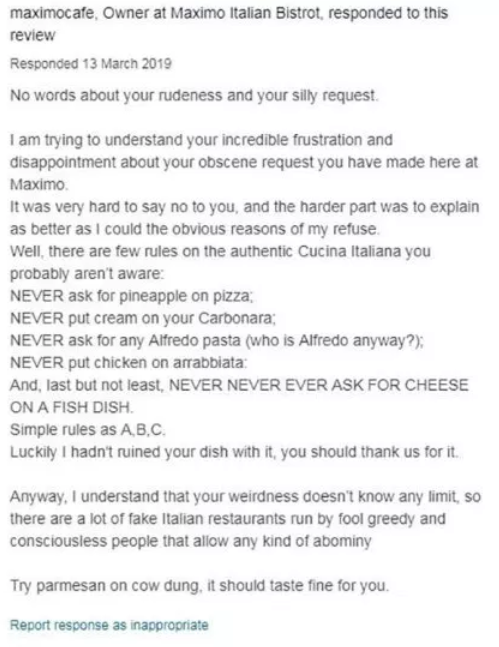 Damn that's pretty scathing isn't it? I can understand why this guy is acting like this because he's obviously fiercely proud of his Italian heritage and his cooking style, but even so surely this is only going to get him negative publicity and literally make people scared to go to his restaurant because they might get shouted at or whatever?
I guess some people who like 'real' Italian food will go for it, but I think the guy is playing a dangerous game with his customer base. Hope it works out for him.
For more of the same, check out this guy leaving the dumbest review ever after he accidentally ended up in Berghain. Jokes.