Berghain is world renowned as the best club in the world, mainly due to its exclusivity policy and the fact it has an absolutely insane sound system and literally anything goes in there.
Featured Image VIA 
If you can get in and are down for whatever, then it's meant to be the best night of your life. That is, if you're actually meant to be going there in the first place.
One guy called Kyle from San Antonio, tagged along with a couple of guys from London he had just me and ended up having the worst night of his life by the sounds of things. I know this because he just had to share his experience with everyone on TripAdvisor and it sounds absolutely hilarious: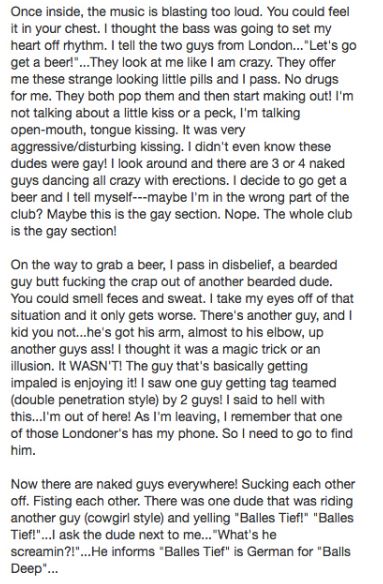 Wow. Kyle seems like a pretty close minded kinda guy but I suppose if you weren't ready for that then it really would be something to deal with out of the blue, especially if you just thought you were going to see a David Guetta show or the equivalent.
Kyle really should be stoked that he'd even managed to get into Berghain in the first place though – do you know how many people would kill for that sort of opportunity? Guy should be grateful.
If you think you've got what it takes to get into Berghain, then check out this website that simulates the admission process. Guarantee you don't.