When most women go into labour, they say something like "OMG, my water just broke!" and then make their way to the hospital. They drop any and all thoughts about social media/Instagram until after they give birth to their baby.
Featured Image VIA
Most women aren't Instagram models though, so you can forgive the latter for doing things a little differently, as was the case with 28-year-old Australian IG star Hannah Polites.
Here's the photo she shared 'literally' as she went into labour:
This set off an aggressive online debate amongst her followers and haters. Did Hannah take that photo days earlier in preparation for when she went into labour? Did she really take it as she was going into labour? Should she have bothered either way and what does it say about her that she does?
People were being very mean indeed:


Personally, I believe Hannah took the photo literally as she was going into labour, with a face full of make-up, looking like a million bucks and not looking stressed or in a rush at all. We all know Instagram models are always genuine and living 'in the moment'. So what's so hard to believe?
Hey look! Someone on social media sticking up for her: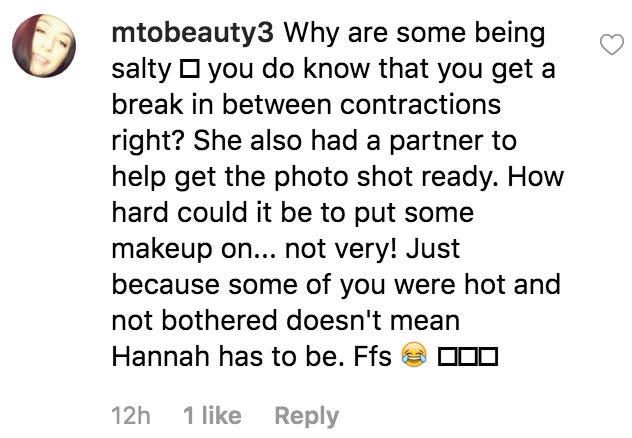 The best part about it is that Hannah gave birth to a baby boy named Arlo (weird name but OK) and of course shared that on IG pronto also:
Big up Hannah and her family. In about 15 years Arlo is going to be explaining to his mates that his mum is an IG model. Good luck with that one lil' dude…
For another Instagram model who is 6 months pregnant and has been baffling people with her photos on social media this week, click HERE.