The Nintendo 64 occupies a special place in the hearts of gamers of a certain age, helped in no small part by timeless titles like Goldeneye and Mario Kart 64.
But what many N64 owners and fans probably don't realise is that some of the cartridges from this classic Nintendo console are worth a shitload of money now and are only set to go up in value over the next few years.
Never fear though, as we've got the definitive list of the Nintendo 64 cartridges worth hundreds of pounds, courtesy of pricecharting.com – do you own any of the following?
9. Bomberman 64 Second Attack – Up to £95
A follow-up to the more commonly-found Bomberman 64, Second Attack was almost identical in gameplay and features, save for a few improvements, but arrived late in the N64's lifecycle and was largely ignored as a result. 
8. Turok Rage Wars Grey – Up to £105
While most N64 gamers owned the black edition of the cartridge, that version featured a fatal bug that made it impossible to complete co-op mode. Owners could, however, post their faulty cartridges off to Akklaim to get a fixed grey one. Not many did though.
7. Worms Armageddon 64 – Up to £125
First developed for the PC (remember those?) before being ported to the N64, Worms Armageddon may have been a patchy addition to the Nintendo console but it's limited and ultimately unsuccessful release means the cartridge is another big money-spinner today.
6. Zelda Majora's Mask Not For Resale (NFR) Gold – Up to £255
Not to be confused with the gold cartridge widely sold when the game was first released, this version is made valuable for the fact that it comes complete with a sticker reading "not for resale demo game only" and was usually handed out to game reviewers and shops and featured unfinished elements of the game. 
5. Clay Fighter 63 1/3 – The Sculptors Cut – Up to £300
This dire beat-em-up may have flopped on release, helped in no small part by its twatty title, but The Sculptor's Cut edition – available exclusively through Blockbuster – has extra characters and is worth big money. Even the box and instruction manual are in demand!
4. Donkey Kong 64 Not for Resale Grey – Up to £380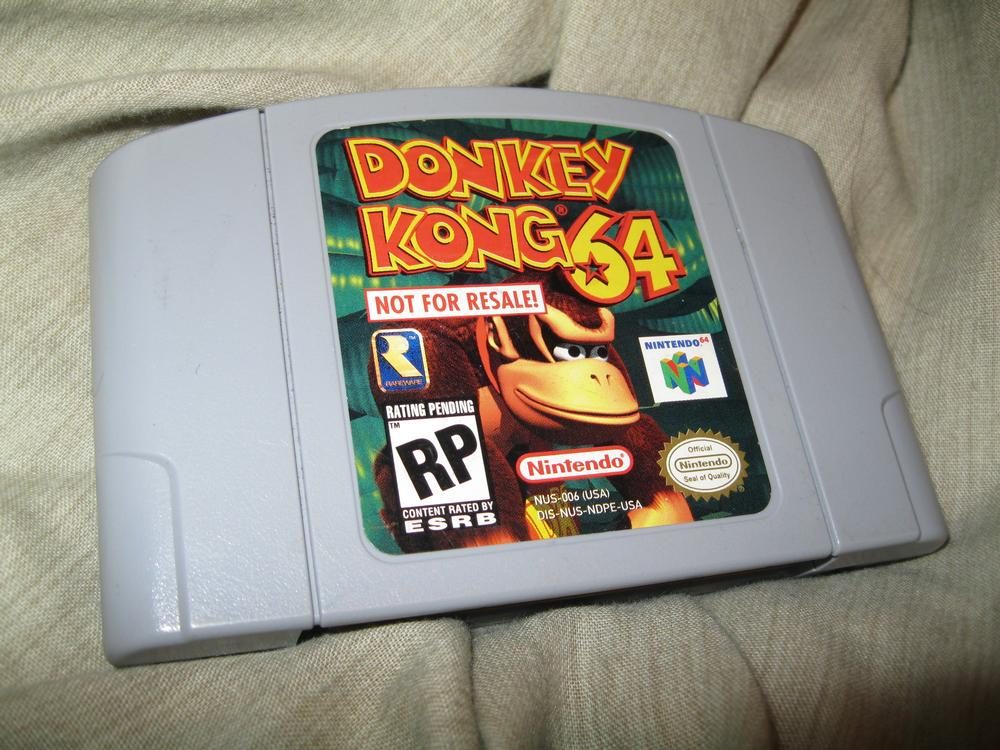 Another extremely rare Not for Resale cartridge, this version of Donkey Kong contains three different demos taken from various segments of the finished game as well as two boss fights and a minigame. There's a yellow version too, but it's not as valuable.
3. Wide-Boy 64 – Up to £465
Though not strictly a game, the Wide-Boy 64 allowed users to play Game Boy games on their N64 via this unique adapter. Only ever released to developers and the press, the device has since been highly sought after by Pokemon fans but it remains difficult to track down.
2. Yoshi's Story International Version – Up to £660
Another demo cartridge that was only made available in the US, this version of the Yoshi classic only works on US versions of the console so is unlikely to be much use to avid gamers. That said, it's worth a hell of a lot and continues to sell for big money online.
1. Zelda Majora's Mask NFR Grey – Up to £830
Even rarer than the Gold NFR demo version of the Ocarina Of Time follow-up, only a handful of these titles exist, with the cartridge first sent out to magazines and reviewers while the game was in it's early development stages. Essentially the Holy Grail of N64 games.
For more on games, here's why Tetris is so addictive.