A New Jersey inmate who was freed early due to COVID-19 has been charged with murdering a teenager just two days after his release.
Featured Image VIA
Jerry Crawford, 25, was doing time for burglary when he was let out on "public health emergency credits" to parole supervision on November 4 last year, reports the NY Post.
He's since been charged with the murder of Davion Scarbrough, 18, who was gunned down in Bridgeton on November 6 – just two days after Crawford got out of South Woods State Prison.
Here's the young victim:

Crawford was charged alongside Yusuf Waites, 23, who had also just gotten out of custody less than a month earlier (after completing his sentence on a gun charge, no less). Sigh.
The pair were caught on CCTV with the victim shortly before his body was found riddled with bullets less than half a mile from the prison which Crawford had been released from.
It gets worse. When Crawford was charged last month, he was already back in custody on gun and theft charges. Waites was also already back in custody for attempting to kill two other men. What the hell were these two lunatics doing out of prison?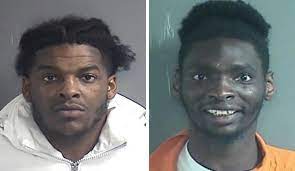 I think it's fair to say that freeing violent criminals from jail because of COVID was a really stupid idea. I mean if they "had" to release prisoners due to COVID, you would think they could've at least picked those who were less likely to commit a violent crime. It's not bloody rocket science, is it?
Did these psychos even want to leave prison? Maybe they'd developed some kind of Stockholm Syndrome with the prison system that means they don't really mind being locked up at all, given their basic needs like food and bedding get taken care of. Either way I wonder if the victim's family can sue the state of New Jersey/judicial system over this? Definitely worth a shot.
Crawford and Waites were both indicted on charges of first-degree murder and first-degree conspiracy to commit murder for Scarbrough's fatal shooting. Let's hope they don't see the outside of a prison ever again.
For the prison officer jailed after getting a tattoo of her inmate lover's cell number on her leg, click HERE. Seriously, WTF?