Everyone knows that the best thing about Easter is getting a big chocolate egg and stuffing your face with it, but IKEA have decided to think a bit out of the box this Easter when they decided to release this flat pack Easter bunny that you have to assemble before you eat it.
Images VIA 
Taking inspiration from I guess every single item of furniture that's ever been sold at the store, the VÅRKÄNSLA bunny comes in three separate pieces which you need to fit together to turn it into a bunny. I suppose you could eat them all separately as well if you wanted to but it would kind of defeat the point of the whole IKEA connection. The good thing about it is that it look relatively simple to assemble – everything else from IKEA – so you should be able to pop it in your mouth relatively quickly after you open the packaging. Result.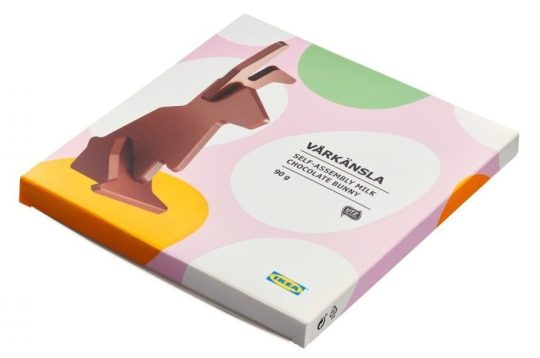 The VÅRKÄNSLA bunny will only set you back £2.75 as well and it should be available from most IKEA stores right now. It's probably going to be really good chocolate too because you know that IKEA does food better than any other furniture store. It's those meatballs that keep me coming back for more.
For more of the same, check out this Easter Egg that's made of cheese. My God!