When someone calls themselves an 'Ibiza addict', what they're basically saying is that they're an alcoholic who likes to get wrecked on holiday.
Featured Image VIA
Which isn't necessarily something to be ashamed of, but it sounds like 50-year-old David Nightingale is one of these guys who thinks 'I go Ibiza all the time' is a personality trait, and he's now set up a GoFundMe asking the public to 'not be shy' and 'spare a few cents' so that he can carry on drinking on his second holiday to the island in 2 months.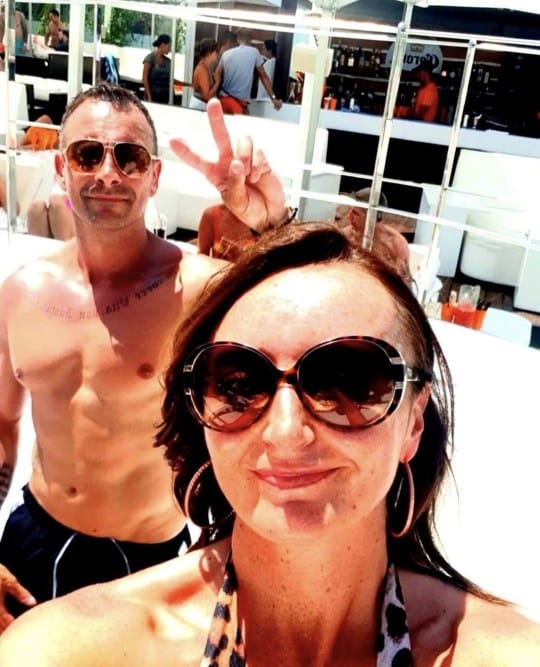 As reported by The Mirror:
A shameless Ibiza-addict who has already splashed £650 on a sunbed at Wayne Lineker's Ocean Beach bar has launched a fundraiser to pay for his drinks while there.

Brazen Brit Dave Nightingale is appealing for the public to 'spare a few cents' for his GoFundMe page despite his flashy package already including hundreds of pounds worth of booze.

The 50-year-old fibbed that on his previous visit to the swanky bar in September, their hefty prices meant he 'had to order ice and wait for it to melt', when in fact he'd bought the same package.

Dave boasted he's already spent £3,000 on his and his 45-year-old wife Lisa Nightingale's five-day getaway with two pals and that he plans to take £1,500 spending money.

The sharp-thinking bathroom fitter shared his GoFundMe page in an Ibiza-lovers group last Thursday but so far nobody has donated to his cunning cause.
So he can spend £650 on a sunbed (!) at Wayne Lineker's Ocean Beach bar that he's gonna use for a few hours, but he needs everyone else to buy his drinks? Doesn't really make sense unless that £650 was all he had, in which case spending it on a fucking sunbed when there's plenty of other places you can sunbathe in Ibiza is pretty dense to say the least.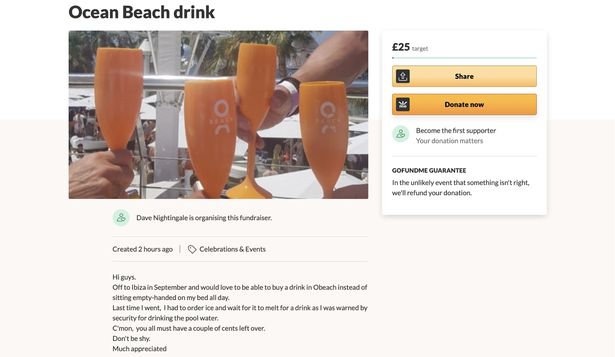 Not to mention he's already bought the package that includes 'hundreds of pounds worth of booze', so what does he need our charity for? The fact no one has donated a penny to his fundraiser is the least surprising thing in the world. Why the hell would anyone want to donate their hard earned cash so some random English moron in Ibiza can get drunk?
There's literally nothing in it for the person donating. Nothing at all. Especially no feeling of contributing to a worthy cause. So our advice to David would be if you can't afford drinks on holiday in Ibiza, maybe book a holiday to some place where you can. Seems fair enough.
UPDATE – Tragic news for David. This just popped up on my timeline as I was writing this blog:
Wayne Lineker seen slumped in empty bar after being forced to close Ibiza clubs https://t.co/8hrmalZ8Lk

— Mirror Celeb (@MirrorCeleb) August 19, 2020
Does this mean David loses his drinks package? LOL. Oh well, at least he got some use out of that £650 sunbed.
For the fight that broke out between two drunk Brits refusing to wear masks on a flight to Ibiza, click HERE. Doing us proud as usual.