I'll be the first to admit that I don't really know anything about massage guns, but when someone emailed me and asked me if I wanted a free one to review for the site, I wasn't exactly going to say no was I?
Images VIA
Sadly though when it arrived I was busy moving house and kind of forgot about it, but in somewhat of a fortuitous coincidence the guy emailed me back asking about the review the day after I had been involved in somewhat of a nasty collision in a football match that had left me with a kind of dead leg feeling in my thigh. It was a really weird moment – I was in goal and miscontrolled a backpass and their striker was almost in but I jumped on the ball and he kinda slid into me – but it left me in some discomfort and I was kinda limping a bit so what better time to try out my new Exogun?
Well, I couldn't do it immediately because you had to charge it up for six hours before using it for the first time – not that this was a major problem or anything, I feel like that's fairly standard – but let me tell you, it was more than worth the wait. The pain wasn't that awful in my thigh, but after pummelling it with the Exogun for a few minutes, it had noticeably improved.
Not to the point that it was gone, but where I could easily walk on it without limping/experiencing too much pain and felt confident that it would probably have cleared up in the next couple of days whereas I thought it might take a week before I had a go with it. Like I said, I don't know much about massage guns but I can't get enough of the Exogun and was happy to have it on hand for the one time that I actually needed one.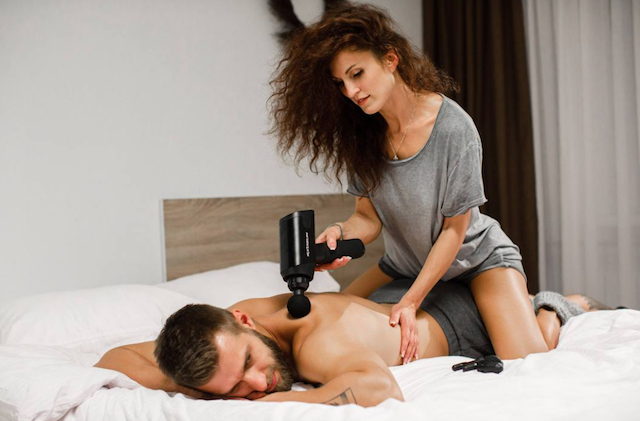 For those of you that are worried about the specifics it comes with four different heads for the gun – a fork, a ball, a flat one and one that's shaped a bit like a molehill/dick – and you can use them all at six different speeds getting progressively faster until it's super rapid. I mainly found that the ball one was best for my injury, but I'm not really sure what you're supposed to use each head for as there wasn't any instructions explaining included with the product, which I must admit was slightly disappointing for someone that doesn't have a clue about any of these things.
That's the only complaint I would have about it though – and I could probably find out their purpose quite easily with a simple Google anyway – but overall the product has been a godsend. I might have kind of complained about the charging time earlier but I've used it a load today and it's still fully charged, so it's really not that big of a deal.
I would totally recommend it to a anyone who regularly needs a sports massage or anything like that to help with their muscle recovery, although I can't really comment on how it compares with other products on the market. Very happy with it though myself, I guess I didn't pay for it though.
If you want to buy yourself an ExoGun, then click here. Well worth your investment.
For more of the same, check out this hoodie that actually gives you a pretty sick massage when you're wearing it. Awesome.