There's a slight spoiler in this article so if you're really anal about that sort of thing then don't read it.
One of the great mysteries following the conclusion of Breaking Bad last summer was just what had happened to Huell after he had been left locked in that hotel room by Hank in one of the final episodes. We're happy to announce that Huell has now been located and that he's reinvented himself as a jujitsu master. Well, not quite, but he's well on his way – recently earning his first stripe towards his white belt.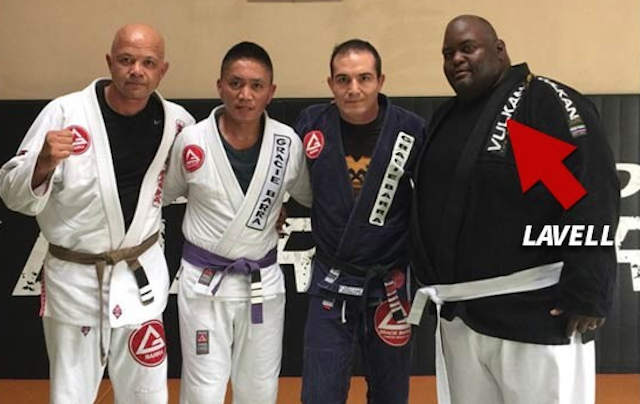 Huell – played by Lavell Crawford – has been training at the Gracie Barra gym in Burbank California where he's proving himself to be a dab hand at the discipline. The gym's owner Alberto Crane (who's standing next to Huell in the picture above) revealed that he's been pretty impressed with Huell so far:
He is so much fun to work with. He cracks a ton of jokes, he's a real funny guy and a pleasure to have around. What's more, most guys his size can't do what he can do either.

He said he couldn't wait to brag to his son about his first stripe. He was pumped up.
So, the mystery of Huell's whereabouts has finally been solved. It seems being locked in that hotel room for so long really messed him up, so the first thing he did upon getting out was start learning jujitsu so he could defend himself. Makes sense, although what definitely doesn't make sense is that Huell was left out by whoever turned Breaking Bad characters into The Simpsons characters.