It's hard enough to get ordinary couples on shows like 'House Hunters' to agree on what they want for their new property. Main road or side road? Renovation job or new build? How much closet space? How many baths? How big is the kitchen? Etc.
Featured Image VIA
Now just imagine how much more difficult and complicated it would be if you were in a throuple. 
HGTV Features Its First-Ever Throuple on House Hunters: 'Representation Matters' https://t.co/53VhaRVrXt

— People (@people) February 13, 2020
As reported by People:
With 17 seasons under its belt, House Hunters made HGTV history on Wednesday when it featured its first throuple — three people in a polyamorous romantic relationship — on one of its episodes.

Titled "Three's Not a Crowd in Colorado Springs," the episode followed Brian, Lori and Geli on a quest to find their dream house in Colorado.

The trio wanted to find a new home that will accommodate their unique dynamic as well as provide space for Brian and Lori's two children.

As with any episode of House Hunters, the family came armed with a list of must-haves for their new residence, including a three-car garage and a master bathroom that will accommodate three people.

At one point in the episode, Lori remarked about the lack of space in one house they were touring, saying, "This is a couple's kitchen, not a throuple's kitchen."

Brian and Lori, who are legally married, fell in love with Geli after meeting her at a bar.
Well yeah you're definitely going to need a three-car garage, a master bedroom big enough for three, and a throuple's kitchen. And that's just for starters. You're also going to need a Super King size bed and room for more closets than Buckingham Palace. Not to mention a whole other section of the house where the kids don't have to hear your throuple orgies going down.
Here's a clip:
And some of the reaction online: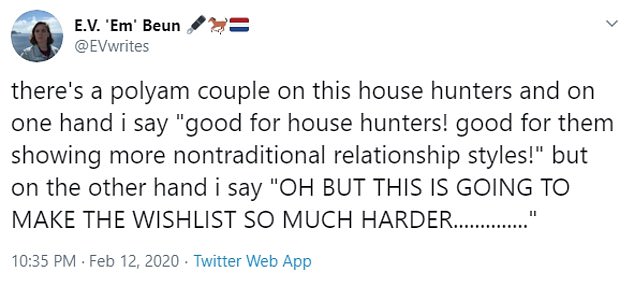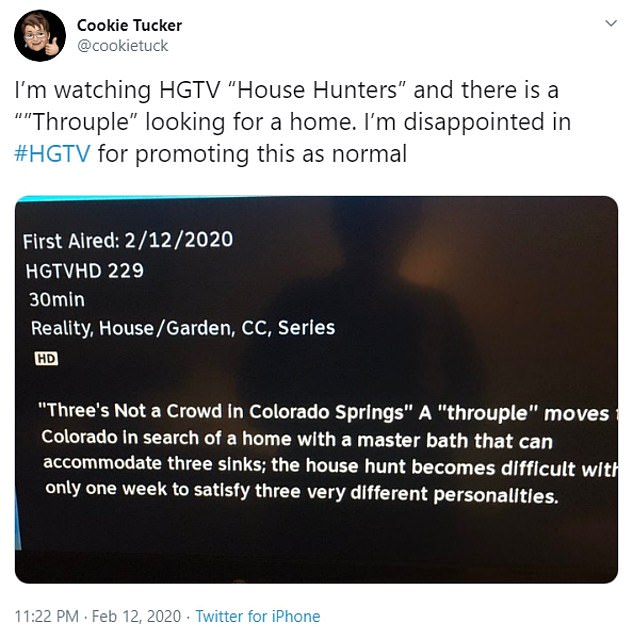 If you want to track down the full episode then go ahead – should be a pretty interesting look at how the throuple lifestyle works as it inevitably becomes a more common living arrangement around the world. 
P.S. Remember former US congresswoman Katie Hill once claimed she was in a 'throuple'? She's actually trying to take credit for popularising the term:
You know, I'm gonna take at least partial credit for enough of society knowing this term for it to be on House Hunters. Just sayin. https://t.co/IfbLMahmye

— Katie Hill (@KatieHill4CA) February 16, 2020
Well I guess that's one thing she accomplished in Congress. 
For more throuples, get a load of this trio of male nurses who are planning on starting a family together. Sort of like a real life version of Three Men and a Baby.