You might have heard that neknominating is what's hot on the streets these days – basically people daring each other to "neck" large quantities of alcohol and then posting the video footage online. It's already been blamed for 2 deaths over in Ireland and seems to be growing into quite the problem around the UK and beyond.
One mum got so freaked out when she discovered her neknominated son looking an absolute state on the living room sofa that she took a photo of him and posted it on Facebook to shame him into never doing it again and to warn other parents of what their kids are getting up to.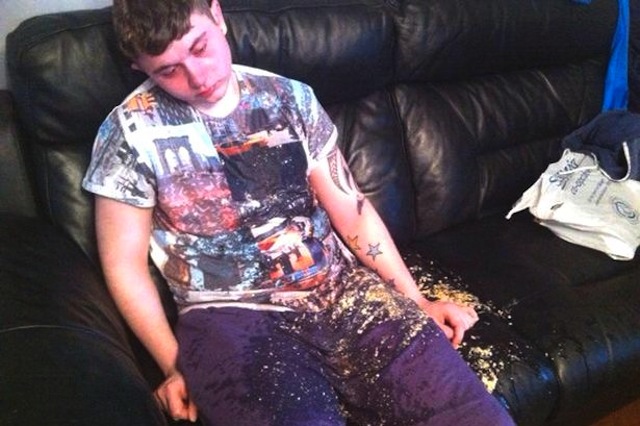 As you can see 19-year-old Keiren Hunter is covered in puke, has possibly pissed himself, is red as fuck in the face and appears to be floating through la la land. He'd accepted a dare to drink a mixture of vodka, whisky, Southern Comfort, Bacardi and sherry.
Worried mum Nikki – who thought he was dead when she initially found him – said: "I wanted other parents to know what what their kids are doing. It was horrendous — he could have died. I dragged him into the bath and hosed him down and he just kept saying sorry mum."
"I gave him a talking to when he woke up this morning, and told him I'd put the picture on Facebook to embarrass him so he wouldn't do it again."
The photo has over 20,000 likes so far. Lesson learnt for young Keiren? Or time to go extra hard?
☛ Up Next: Man Develops Mystery Growth After Drinking From Can He Fished Out Of River (NSFW)