The anti-government protests in Hong Kong have been raging on for over two months now with tensions reaching fever-pitch following the announcement of a highly controversial plan that will allow criminal suspects in Hong Kong to be extradited to mainland China.
Featured Image VIA
The reason the public opposes this is because they believe people will be subject to unfair trial and torture under China's notoriously ruthless justice system.
Well with no end in sight to these protests it looks like the government has finally had enough and hired a bunch of Triad thugs to dress in all white and beat the absolute shit out of everyone in sight.
Unfortunately this involves pregnant women and female journalists:
#Breaking: Some shocking video footage of a Female journalists being beaten by multiple of these hired pro Chinese TRIAD government criminals dressed in white in #HongKong of tonight. #extraditionbill pic.twitter.com/mpU2ocWYrb

— Sotiri Dimpinoudis (@sotiridi) July 21, 2019
Here they are storming a train and doing the same:
#Update: One Crazy video footage showing these men in white, having some kind of a small baseball bats swinging at people randomly not even targeting individuals who are protesting, but swinging at everyone they can hit in these #HongKong protests tonight. #extraditionbill pic.twitter.com/016AVmvbpy

— Sotiri Dimpinoudis (@sotiridi) July 21, 2019
Get a load of this madness:
#Breaking: Just in – Reports of hundreds of hired criminals in #HongKong in white, are attacking protestors journalists and local residents in the area. #extraditionbill pic.twitter.com/G3P1srNzaW

— Sotiri Dimpinoudis (@sotiridi) July 21, 2019
#Update: These hired thugs of men in white have no decency! They even hit a pregnant women and she fell to the ground because of passing out, and she has been taken care off by local medics in the protest in a #HongKong subway. #extraditionbill pic.twitter.com/hFEAdrfCuz

— Sotiri Dimpinoudis (@sotiridi) July 21, 2019
Look at the state of this guy's back after the Triads whipped the hell out of him – ouch: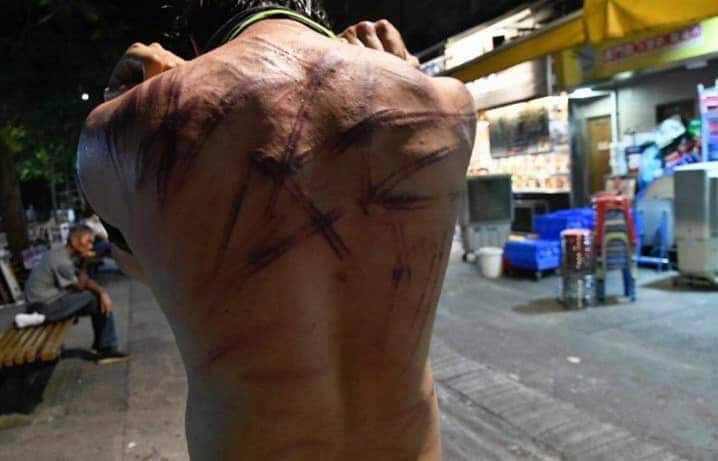 The Times reports that Junius Ho, a pro-China MP, was seen shaking the attackers' hands and even thanking them for battering protesters.
Hong Kong's opposition Democratic Party is now investigating the attacks after the night of violence turned the political landscape even bleaker than it already was.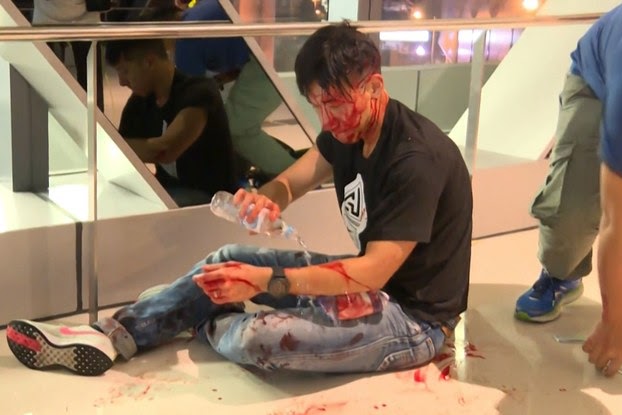 Lam Cheuk-ting, who was also injured, says the police couldn't have cared less:
Is Hong Kong now allowing triads to do what they want, beating up people on the street with weapons?
Either they've been told to stand back and let it happen or they're as terrified by these Triad thugs as everyone else is.
I'd poop my pants if I saw this lot coming at me too, to be fair:
#HongKong police failied to protect the anti-government protesters from the China thug Triad gang attacks.

According to eye-witnesses, gang members were aiming their attacks towards people in black shirts that had attended protests earlier on in the day. pic.twitter.com/eve0xcWX5x

— (@dogkeg) July 22, 2019
We can only hope some kind of resolution is made that will end the violence and serve the best interests of the people of Hong Kong but knowing how things work out there, I doubt that's happening any time soon.
For more Hong Kong violence – get a load of what happened to this guy after he started yelling Avengers spoilers outside the cinema.