In really rather sickening news, Hackney council in London have unveiled plans to charge homeless people up to £1000 for sleeping rough near tourist attractions, presumably because they're depriving from the aesthetic of said tourist attractions.
Hackney Council's Public Space Protection Order (yes, it's really called that) gives homeless people a £100 on the spot fine if they're sleeping in a public place and this can then rise to £1000 if it goes to court. It's absolutely not clear how the council expects the homeless people to pay this fine, as you would presume that if they had £100 in their pockets they would just go and find a cheap room somewhere to spend the night rather than sleeping on the street.
Matt Downie of homeless charity Crisis said the following about this idea, which I'm pretty sure most people with any ounce of compassion in their bodies will agree with:
Featured Image VIA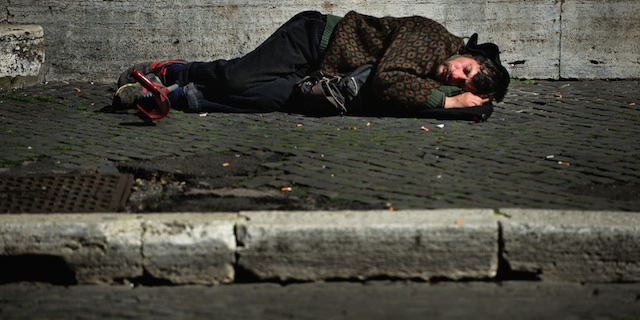 Image VIA 
Rough sleepers deserve better than to be treated as a nuisance — they may have suffered a relationship breakdown, a bereavement or domestic abuse.

Those who sleep on the streets are extremely vulnerable and often do not know where to turn for help.

These individuals need additional support to leave homelessness behind, and any move to criminalise sleeping rough could simply create additional problems to be overcome.
Obviously the move has been pretty much universally condemned and there is some hope that it might not come into play after an identical law proposed by Oxford City Council was scrapped after a petition against it collected 72,000 signatures. Similar action will surely follow in Hackney and hopefully the order will be thrown out.
Why can't we just be more like France (yeah I never thought I'd say those words either) who recently made it illegal for supermarkets to throw their waste away, instead forcing them to donate it to homeless shelters? This seems like a much better way to deal with the problem of homelessness rather than fining them money they don't have. Hackney City Council should be ashamed.