The aftermath of Ronda Rousey's unbelievable KO on Saturday continues to resonate around the world, and we're now hearing just exactly what Holly Holm said to her at the end of the fight after she was declared champion.
If you watched the fight (if you haven't seen it click here) then you would have seen that Holm appeared genuinely concerned for Rousey as she lay on the floor completely and utterly out of it after being kicked in the head and pummelled by Holm. She continued with this humility upon speaking to Ronda immediately following the fight – whether or not Ronda could even hear her or remember anything though is another matter entirely:
I told her I appreciate her and the reason why any of us have this opportunity is because she's been able to come in and make waves.

I appreciate that about her and she's been a good champion.
Featured Image VIA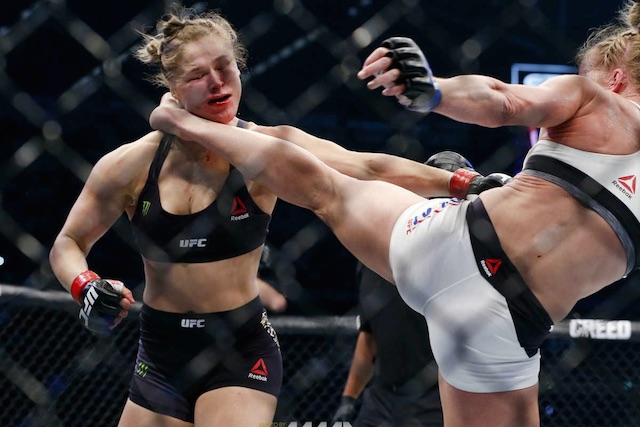 Image VIA
Holm continued with this line of thinking following the fight, saying in an interview:
Trust me, I want the knockout and I want the victory and I'm glad I got it and I'm glad it was by knockout but I never want anyone to actually be permanently injured from anything in a fight.

I have a certain compassion at that moment. I've been on the end of losing a fight and there's a piece of my heart that has compassion towards that because I know how it feels. Don't get me wrong, I don't take anything back.

I hope she's doing well and if I know Rhonda, she's going to bounce back. She's never let anything get her down too hard.
Wow, she sounds like the perfect gracious champion about all this stuff, which is obviously a direct contrast to Ronda Rousey herself. Whether this will mean she's as popular as Ronda has been throughout her ascent to the upper echelons of the UFC world is another matter entirely though.
As for anyone wondering about Ronda, she broke her silence late last night on Instagram with the following message. See you at UFC 200 for the rematch, but in the meantime watch this absolutely incredible knockout to get you in the mood for it – we've got a long time to wait.