I don't even know much about the 'Fast And Furious' movies but it's been well publicised that there was some kind of beef between Vin Diesel and The Rock whilst they were filming one of them over which of them was more famous or something and in the buildup to the release of the ninth movie in the franchise, Vin Diesel has decided to bring it up all again.
Featured Image VIA
Vin was speaking to Men's Health of all publications when he decided to claim that the creation of The Rock's character Hobbs was basically all down to him. Here's what he had to say: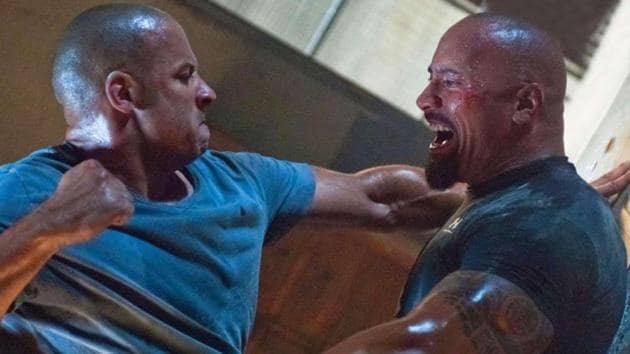 It was a tough character to embody, the Hobbs character. My approach at the time was a lot of tough love to assist in getting that performance where it needed to be."

As a producer to say, 'Okay, we're going to take Dwayne Johnson, who's associated with wrestling, and we're going to force this cinematic world, audience members, to regard his character as someone that they don't know' – Hobbs hits you like a ton of bricks.

That's something that I'm proud of, that aesthetic. That took a lot of work. We had to get there and sometimes, at that time, I could give a lot of tough love. Not Felliniesque, but I would do anything I'd have to do in order to get performances in anything I'm producing.
OK, again I don't really know that much about 'Fast And Furious' but it only takes a little look at the stats to see that the last movie that The Rock wasn't involved in was 2009's 'Fast And Furious' grossed $360 millions worldwide. The movies that have involved The Rock since then have grossed $626.1 million, $788.7 million, $1.5 billion and $1.236 billion respectively, which kinda makes it sound that the franchise went absolutely galactic when they roped The Rock in to star in it.
Was this because of Vin Diesel's tough love approach to The Rock and getting a major performance out of him? Or is Vin Diesel just talking out of his ass? I'll let you figure that one out.
I doubt The Rock cares though as he's legitimately the biggest movie star on the planet and almost universally loved. Get over yourself Vin Diesel. Imagine the shit he'll come out with if The Rock does run for President in the future.
For more of the same, check out this story about a guy who pretended to be Vin Diesel and scammed a woman out of $500. What a numpty.