Some (annoying) people have mastered all kinds of new hobbies whilst being stuck in lockdown and more power to them, but I'm not sure that anyone requested a way to make ice cream that tastes like your favourite Heinz sauces – this is exactly what we're getting though.
Featured Image VIA 
The range of ice cream making kits has been commissioned to celebrate National Ice Cream month, with Heinz Ketchup Creamz, Heinz Salad Creamz, Heinz BBQ Creamz, Heinz Mayo Creamz, Heinz Saucy Sauce Creamz and Heinz Salad Creamz being on the menu. Not really sure why anyone would want to make ice cream that sounds like Heinz, but in any case this is how they're trying to market it, courtesy of their Senior Brand Manager David Chalbert: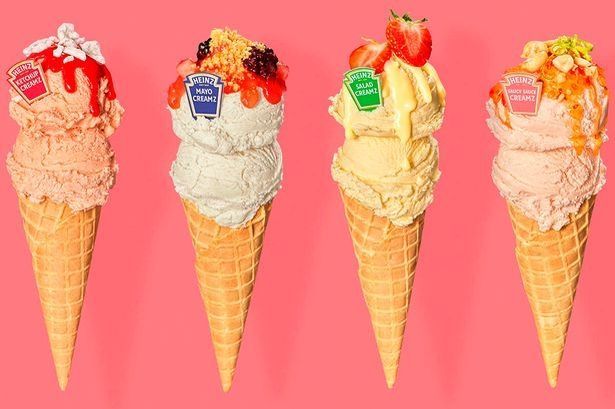 This summer is looking different for many of us, and while we might be staycationing or staying at home more than in other years, it doesn't mean you have to miss out on the joys of a good ice cream. Heinz sauces are here to help.

We give you the ultimate summer mash up; Heinz Creamz. A DIY ice cream kit, with an added summery squeeze of one of your favourite Heinz Sauces. So, you needn't miss out on one of the sauciest of sweet treats (or six!) during a summer of social distancing.

We know it might seem like a bit of a crazy combo to some – but with Heinz always at the forefront of innovation, anything is possible.
Yeah, still don't think I'm that interested in it and at £15 a pop I doubt I'm gonna wanna investigate either. I did have this old girlfriend who absolutely loved tomato ketchup though – I mean completely obsessed – so maybe if you're dating somebody like that then it might make a good gift for them. That's all I got.