We believe the day we've all been waiting for may have come…
It appears that Harry Styles is shedding himself of his cutey pop star teenage heart throb image, and shifting to the drugged up rock'n'roll alcoholic look of someone who's about to go awol and be the Daily Mail's new favourite front page shock celebrity. We can only hope hey!
It wasn't long ago when we revealed our suspicions about baby faced Harry Styles and Radio 1 DJ Nick Grimshaw having a sexual relationship, and now it's looking like the 1 Direction superstar is slowly losing the plot, probably from all the fame and attention that's been cast on him and the boys since Simon Cowell released them into the wild.
Everybody knows that the first stage of a musical tortured soul going into meltdown involves getting loads of really gash tattoos, which is exactly what Harry's gone and done.
Not living up to his surname, Harry's had the most random collection of awful black tattoos on his left arm, which look like something Synyster Ink could have produced.
☛ Read Next: Idiot Girl Gets Awful Marilyn Monroe Tattoo From Retarded Looking Tattooist; Complains Life Is Ruined
Harry's shocking tattoos include:
'17 BLACK', which is James Bond's lucky number (original)
Two large swallows on his chest (double original)
His sister's name in Hebrew (yawn)
Lord Nelson's HMS victory battleship etched onto his arm (after he saw the ship used in his girlfriend ex-girlfriend Taylor Swift's music video – uh oh! Bet you're glad you didn't get her name permanently tattooed onto your body aren't you buddy!)
Coat hanger (??)
Pad lock (??)
Bird cage (??)
Random screw (??)
I'm not really sure what those 4 mean but I'm sure they have massive significance in Harry's life.
☛ Read Next: Song Dissection — One Direction: Little Things
Maybe one of his team (or his Mum) should have stepped in and stopped young Harry from ruining his teenage heart throb look that's made him so filthy rich up until now? Maybe Harry's taking a page from Pete Doherty's book and going for the heroin chic look. Hopefully the heroin addiction will follow next.
Are Harry Style's tattoos worse than Ed Sheeran's awful tattoos? Check em out: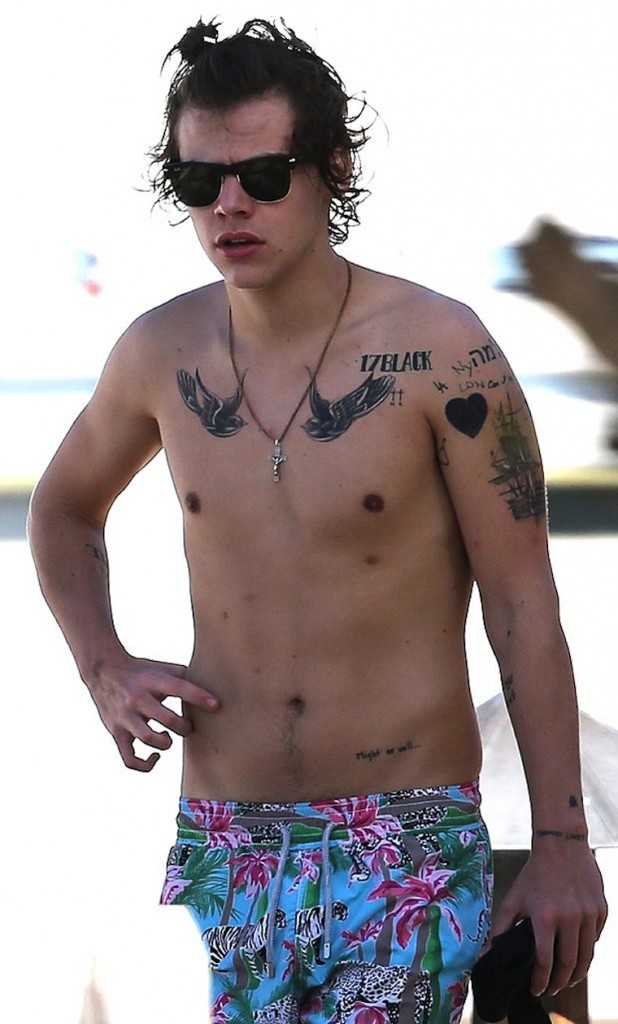 ☛ Read Next: Justin Bieber Is A Stoner