Halle Bailey (that's Bailey, not Berry) has officially been cast as Ariel in Disney's upcoming live-action remake of The Little Mermaid, so congrats to her on this massive, star-making gig.
Featured Image VIA
dream come true… 🧜🏽‍♀️🌊 pic.twitter.com/sndjYUS6wO

— chloe x halle (@chloexhalle) July 3, 2019
Director Rob Marshall says of his casting:
After an extensive search, it was abundantly clear that Halle possesses that rare combination of spirit, heart, youth, innocence, and substance — plus a glorious singing voice — all intrinsic qualities necessary to play this iconic role.
Others, however, were less than pleased:
my childhood ruined #NotMyAriel pic.twitter.com/coUnmQqnF9

— billie ♡ (@billievanderpol) July 4, 2019
@Disney I'm sorry but being a little girl with red hair Ariel was character I looked up to when I was growing up. Very upset by the choice for the remake. I will not be going to see it, you've ruined it for me. #notmyariel #childhoodmemoriesruined #longliveredheads #LittleMermaid pic.twitter.com/mlCwWIFoKi

— Courtney Moss (@ShortNoze) July 3, 2019
And just like that @ Disney ruined the live action little mermaid. Fuck Disney #notmyariel

— Mike and Elio (@MikeandElio) July 3, 2019
She looks like Ariel and her name is ariel #NotMyAriel #Ariel pic.twitter.com/QKjPn2UHIo

— Allie (@Aleeeeeeeya) July 4, 2019
I guess we non-black people can't say anything about the casting because whatever we say, we are just some racist people. I just want the movie to be like the one I watched when I was a kid. Is that too much to ask? #notmyariel

— EvanMcSwag (@evanmcswag992) July 4, 2019
Others leapt to Halle's defence while suggesting anyone who has a problem with the casting of Halle Bailey as Ariel must be racist:
"iM nOt rAcIsT bUt tHe LiTtLe mErMaID nEeDs tO bE wHiTe"

Spare me the nonsense that Ariel NEEDS to be white, she is a MYTHOLIGIAL SEA CREATURE.

— Skyler Shuler (@Skylerhxc) July 1, 2019
for YEARS white people have played Indians, Egyptians and historic black figures in movies & television

but a black girl playing a FICTIONAL MERMAID is what y'all have a problem with? tf outta here

let me give you some examples

— Alex Thomas-Smith (@AlexThomasSmith) July 4, 2019
Fact box: the Little Mermaid lives on a TROPICAL CORAL REEF with a calypso-singing lobster with a strong Jamaican accent. When you think about it, it's bizarre she was white the first time around.

— Caitlin Moran (@caitlinmoran) July 4, 2019
why are people so pressed about halle bailey playing ariel? her voice suits the part so well, she really sounds like a disney princess. y'all really out here getting mad that she's african american, grow up. she's going to be amazing. pic.twitter.com/nVjhMvlEbS

— kiera ; on vacation dont kick (@dolansxteeth) July 4, 2019
She's a mermaid Becky, they don't really exist, unlike your racism.

— SMDH at Bros🥀🍩 (@AYFKMPEOPLE) July 3, 2019
Yeah, I'm not sure why any reasonable person would have a problem with a black girl playing a fictional mermaid to be honest. I mean that one guy says it's nothing to do with racism, he just wants the mermaid to look like the original movie from his childhood. Well here's a solution for you mate – go watch the original?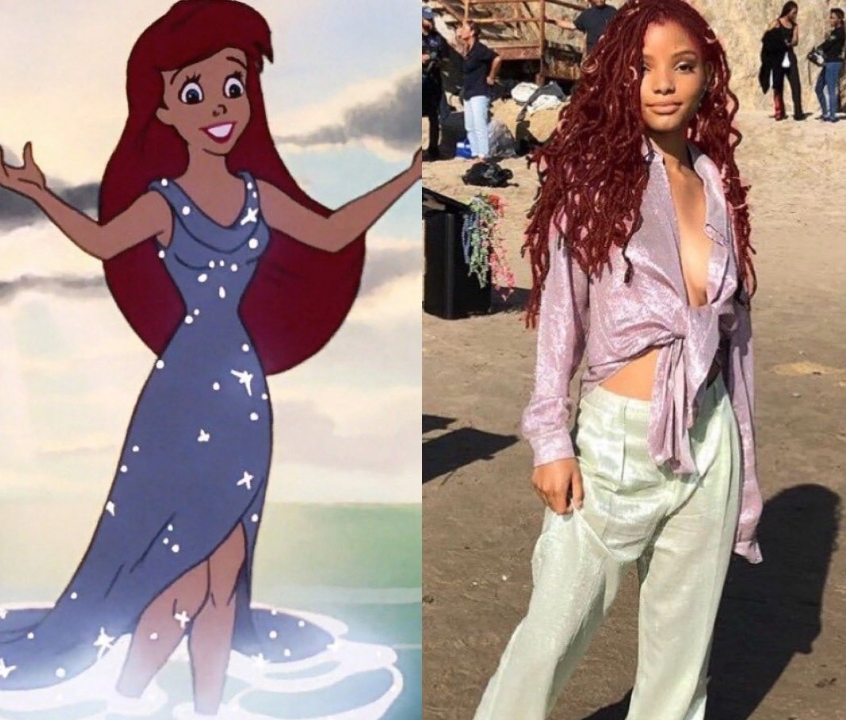 Halle will be joined Melissa McCarthy (Ursula), Jacob Tremblay (Flounder) and Awkwafina (Scuttle).
To meet the men who spend every weekend hanging out by the local pool dressed as mermaids, click HERE. Whatever floats your boat I guess.