If there's one thing you can always say about famous and successful people to make yourself feel better about your shitty life, it's that they've probably got smaller dicks than you.
Featured Image VIA
Well, those days are over my friend – at least for some of you – because a website named Mr Man claims to have watched over 8000 full nudity movie scenes to determine just how big some of your favourite actors' penises are. Knowledge I'm sure that you can't wait to consume that cane be found in the graph below – it's bit confusing but I think the ten on the left have the smallest dicks in Hollywood pre-erection and the ones on the right have the biggest dicks in Hollywood pre-erection. I think that's how you're supposed to read this: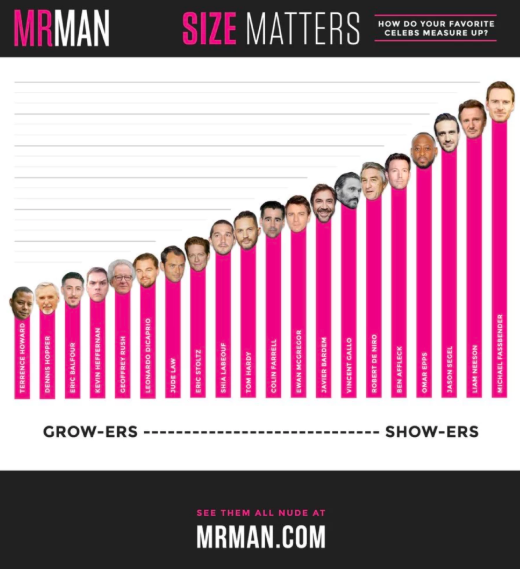 Oh yeah come to think of it I do remember Fassbender trudging around his apartment with his massive schlong in Shame a few years back, and Tom Hardy not looking so big when he got his dick out in Bronson. Can't say I remember seeing any of these other dude's penises on the big screen, but then I haven't been through 8000 nude scenes to deliberately find them.
Gotta do some more research I guess to ensure this list is accurate. See you in ten years or something.
For more of the same, check out this picture of a man who got his dick stuck in a weight. Ouch.