If you won big at the casino, how would you spend the night celebrating?
I can think of better things to do than blowing loads of my newfound cash – £17K to be precise – at a strip club in Watford, but apparently some unnamed dude who won big over the weekend was stumped and that was the best plan he came up with.
Even worse: he had actually been gambling in London, so had to travel a pretty long distance to get back to Watford in order to visit his preferred strip club of choice Diamond And Strings, which certainly sounds the part – when he probably could have found any number of cooler things to do in the capital. He did make it count when he arrived there though, hiring the most expensive room and seven of the club's girls to party with him for the night.
He also ordered seven magnums of vintage champagne – presumably one each – although I think it was the girls that bumped up the price of his big night out. Not that the champagne came cheap mind you – it was around £6K for the lot as you can see below:
Images VIA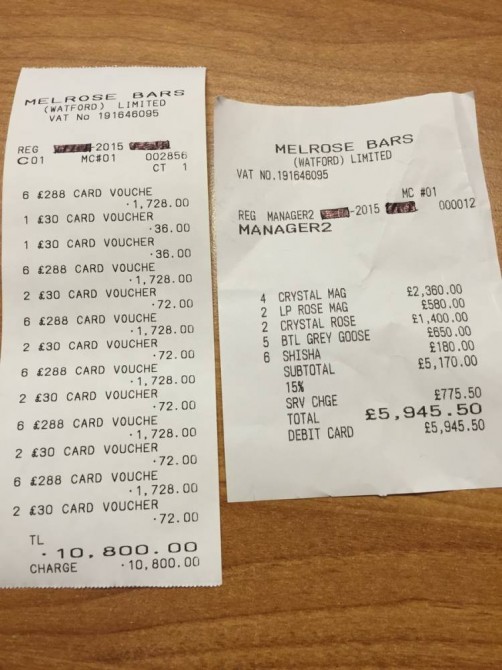 The general manager of the club Nas Mal explained the night:
He had a win at a casino in London and decided to come to Hertfordshire to spend a great deal of money with us.

He was in our VIP area, he hired out our most expensive room with about seven girls and ordered our best champagne. He stayed there and partied all night long.

He's certainly shot to the top of my best customer list.
Yeah no shit Sherlock – how many times does someone spend £17K at a strip club in Watford now that Marlon King doesn't play for them anymore? I wouldn't be surprised if the man in question had visited the place before to be honest – you're normally gonna celebrate a big win like that with your friends at your favourite venue, so my guess is he was a recent visitor without any friends who always dreamed of booking out that VIP room.
Dreams can come true, but let's just hope he hasn't spent so much of his winnings that he ends up like these lottery winners who had it all and blew it.