Everyone has sex toys and everyone knows about it, but it's just kind of an unspoken rule that you don't get them out in public and start messing around with them. I mean honestly who does that?
Images VIA
Well, apparently the guy in this video. Getting on the New York subway at 5am, the guy couldn't contain himself over his new purchase and proceeded to get it out and mess around with it, complete with a look of intense fascination.
Obviously some guy called Cameron Turner decided to take advantage of the situation and film it so the whole world could appreciate the hilarity of it. Check it out: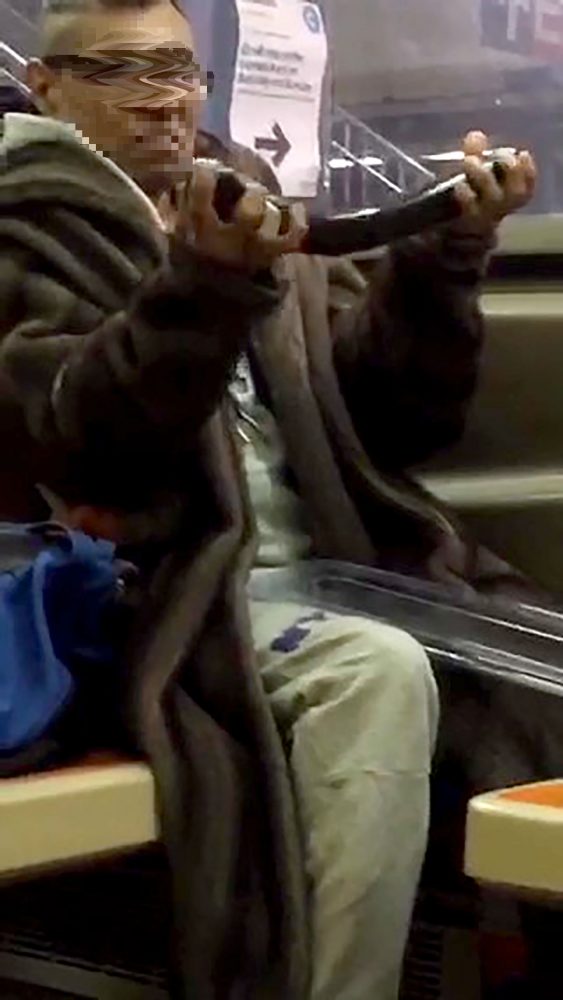 I was on my way to work on the subway and it was about 5am," said Cameron Turner, who took the video.

This man gets on the train and sits down to pull out this giant sex toy and opens it to show it off and is filled with such excitement.

I filmed this because at first I couldn't believe this was happening and so i pulled out my phone to record it. I'm so pleased I did. I can't believe what I caught on camera.

I was first confused and then not surprised that something like this would happen in NYC. I have never experienced this before!"

He seems very happy with it and is really eager to get it out of the plastic packaging – he doesn't waste any time from the moment he sits down to getting it out.

The way he looks over it and wafts it around really made me laugh. It's like he's showing it off.

He must know what it is. I have no idea what else you could think it is. It has two heads and is veined so it's pretty clear what it is. Some people suggested it could be a Valentine's Day gift. If that's the case, someone is in for a shock.
I dunno if it's a shock really, they're probably going to be into that kind of stuff to receive it as nobody's just gonna buy a huge dildo like that for someone if they've literally never received anything like that before. It's the kind of thing you're into or not, ain't nobody taking a chance on that.
Not entirely convinced that it is a present though given how much love and attention the dude is giving it. Wouldn't surprise me if he just went home and gave himself a thorough ramming to be honest.
For more dildos, check out this guy who woke up to find ten of them glued to his back. Hell of a prank.