Friday nights in Nottingham have been known to get a little rowdy, but normally that's due to drunk chavs ending up fighting each other. Not because one guy got so into a song he ended up knocking himself out in a pool of blood.
But when 'Wake Me Up Before You Go Go' comes on then there's only one place that you'll find 49 year old Tom Burns, and that's on the dance floor. He was enjoying a night out with his 41 year old wife Libby at The Pear Tree in Keyworth, Notts last week when the track came on and he got super excited.
Tom was dancing so enthusiastically that he unfortunately tripped over his own feet and cracked his head against a table leg, where he lay in a puddle of his own blood knocked out cold. Probably had a few too many WKDs.
Images VIA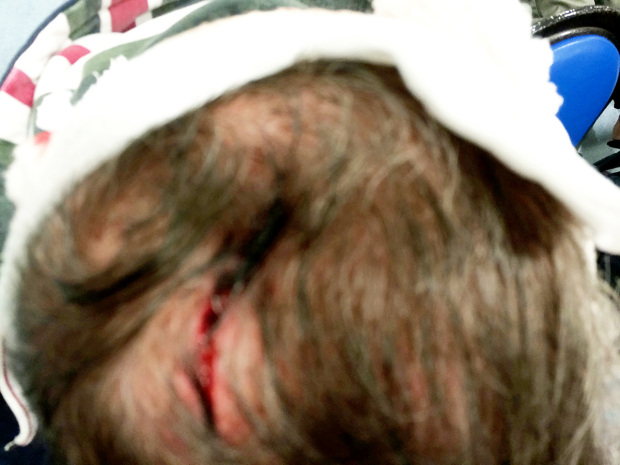 Paramedics were called but Tom woke up before they got there and actually tried to get up and keep dancing. He was convinced not to by Libby and other punters at the bar though. He received 16 stitches to the back of his head following the incident.
Speaking about it, Tom had the following to say:
I'm quite a notorious dancer.

I've won trophies, in the form of pints of beer, in Australia and Nottingham for my moves.
What a killer. I don't know what you're doing this Friday night, but I know where I'm heading – to check out this guy's moves at The Pear Tree. It's a no-brainer.
As for people who like Wham, what about the DJ who held his radio station hostage and played Wham 24 times in a row? Some people are fucking mental.