A pretty much unbelievable story has gone down where a guy who lives in Washington state was accidentally invited to a stag do in Philadelphia, and thanks to the glory of the internet and the awesomeness of the groom, he's going to make it.
It started when Joey DiJulio received an email about a guy he had never met called Jeff getting married and planning his stag do due to a typo in an email address. This email was sent on February 11th and Joey decided to remain in the thread and see what was going on because well, organising stag dos are a lot of fun and full of banter, right?
On Monday though, there was a final headcount for the event and Joey decided to come clean, writing the following:
Featured Image VIA
Hi All,

So, I have no idea who any of you guys are, but I have been enjoying being a fly on the wall hearing about the plans for this bachelor party over the last few months.

I'm assuming my E-Mail address was added to the list by mistake (perhaps a typo of someone else?).

I live out in Seattle, WA and although for a moment I thought it might be funny to just show up and be that guy nobody knows but everyone wonders "who is that guy?", buying a plane ticket for a cross-country flight just to crash a bachelor's party might be a bit over the top (although it would be epic!).

Nonetheless, I do hope you guys have a great time and I'd like to take a moment to wish the best of luck in life to the groom!

Cheers!

Joey DiJulio

Seattle, WA
To which Jeff Minetti – the groom, pictured below with his wife to be – replied with one of the most awesome replies in history: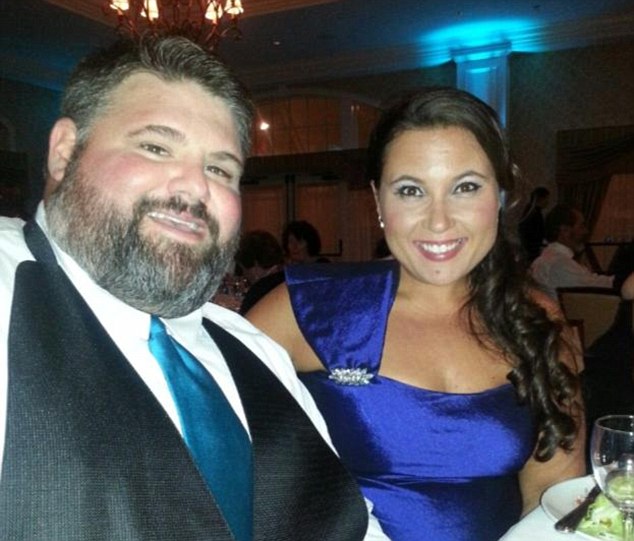 Image VIA
I'm overnighting you a wedding invite. You show up at the bachelor party and I'll make you my best man. You can give the toast even.

I say everyone forks up an extra $20 and we get Joey a plane ticket to Philly!
Wow. What an incredibly fun guy. They even set up a crowd funding page for Joey and the goal of $1,264 for his plane ticket was met within a day. Obviously.
Joey decided to raise the goal to $10,000 so that he could give the bride and groom a little extra money towards their honeymoon in Italy, and it now stands at around $3000 at the time of writing. Joey flies out of Seattle next weekend to go meet the guys for the first time at a casino in Philadelphia to enjoy March Madness and sounds like he's going to have a hell of a time.
He isn't nervous about meeting them because they remind him of his own friends and sound like awesome guys. We couldn't agree more. The only question left is whether or not this make it into the most outrageous stag do stories of all time.