It's always exciting to get an Advent calendar, but there's just something about getting a chocolate every day that just doesn't do it for me anymore like it used to when I was a little kid.
Images VIA 
So with that in mind, I'm pretty stoked to let you know that Greggs is releasing their very own advent calendar this year. Obviously you're not going to be able to have their delicious pasties in the actual calendar itself, but every day you open one you'll get a voucher that will entitle you to a free Festive Bake, mince pie or similar if you take it in to your local store and redeem it that day.
When it gets to Christmas Eve you'll also get a £5 Greggs voucher to spend and then on Christmas Day there's also a chance that you might nail yourself a £25 voucher as well. What a result.
To complete the calendar effect, there's also a really weird illustration in each window of some typical Christmas imagery but replaced with Greggs products, like these three shepherds worshipping a sausage roll: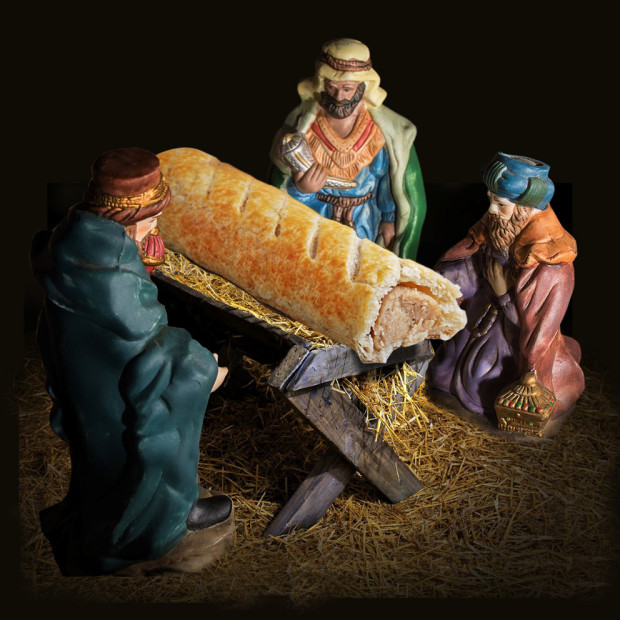 Perhaps that's a bit too much? Although it's kinda tempting me to get the calendar just to see whatever bizarre pictures they can come up with. That really is something else.
If like me you're interested in picking up the calendar, then it'll set you back £24 which might seem a bit pricey, but when you consider all the freebies you're going to get from it which could potentially add up to £60, it's actually a bit of a bargain. They go on sale next Monday November 20th from all Greggs stores in the UK, but you'll probably want to bag one pretty quickly as they're guaranteed to sell out fairly quickly considering what's on offer.
For alternative advent calendars, check out this cheese advent calendar. Also a good idea.