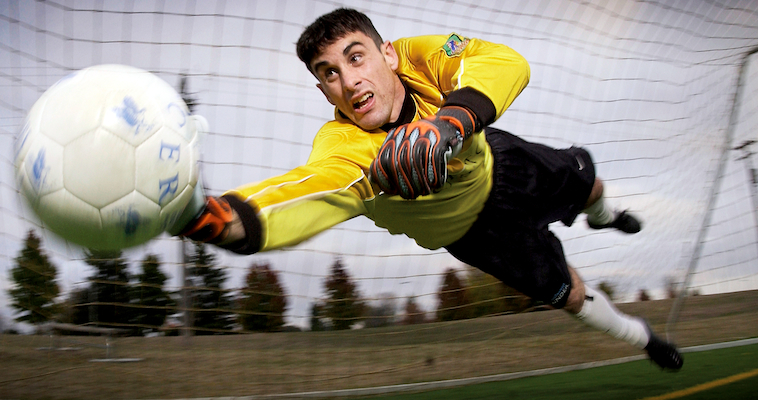 It's always pretty cool when a goalkeeper scores a goal because it rarely ever happens and generally it's in the dying seconds of a big match when one team is losing or desperately needs to win because that's the only time that a goalkeeper gets anywhere near the opposing team's penalty area. Unless you're Chilavert or Rodrigo Ceni and you take the free kicks/penalties for your team but there don't seem to be too many goalkeepers like that anymore.
I think the best goalkeeper goal I ever saw was Brad Friedel for Blackburn V Charlton. It wasn't that great a goal or anything I just absolutely loved it because even though it was the 94th minute or whatever and Blackburn had thought they had just secured a vital away point, Claus Jensen went down the other end and banged one it. It ruled. Paul Robinson has scored a couple too but I haven't really seen anyone score one for ages. And definitely not on anywhere near as spectacular as this one.
It would be incredible for anyone to score this goal, even David Beckham or Xabi Alonso. I'm only saying their names and not someone like Messi or Ronaldo because the goal was well within the goalkeeper's own half and both of those players are famous for having scored goals from within their own halves. But they weren't half volleys from 80 yards. Sure, this is in a lower league Swiss match so it's not exactly like scoring an outrageous goal in the Champion's league or anything but I'm pretty sure anyone who has ever kicked a ball can appreciate just how outrageous a goal this is at any standard.
I doubt goalkeeper Dominique Niederhauser actually meant to do this but whatever, it's awesome and one of the sweetest strikes/lobs you will ever see. If you're interested as well the team is called Dardania Lausanne and they play in the Swiss equivalent of the conference league which makes it pretty incredible that anyone even got a recording of this goal. But still, here it is for you to enjoy. Maybde Dominique Niederhauser will be getting a call up to Grasshoppers FC in the coming weeks?
[yframe url='http://www.youtube.com/watch?v=bwp4CV_lBG8′]