A grandmother recently managed to accidentally drive 300 miles to Scotland when she was supposed to be going to a hospital appointment just 10 minutes away.
Images VIA
83-year-old Valerie Johnson was meant to be going to Royal Hospital in Worcester, just six miles from her home. However, she ended up driving for a whopping eight hours before running out of fuel in Scotland.
Apparently she missed the turn-off for the hospital due to road works. Instead of stopping the car and figuring out what to do, she simply carried on up the M5 and M6 before stopping outside a couple's house close to Glasgow at 12.40am.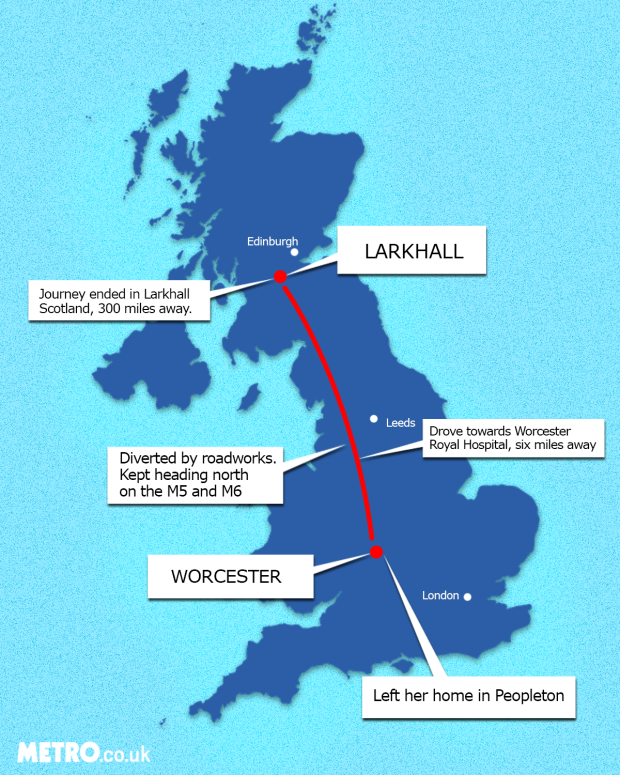 Thankfully the couple took care of her until her daughter came to her rescue. The daughter, 49-year-old Karen Maskell, said:
Mum's next-door neighbour called me to say she hadn't come back and he was worried. I thought she must have had an ­accident.

We called the police and by the time I got to her house, they said they had spotted her car on a traffic camera at Preston at 11pm.

I said it couldn't be my mum because she hates driving, she doesn't usually drive more than three miles. But it was her and she was still heading north and we had to get the Scottish police involved.
The police eventually rocked up to the couple's house to ensure she didn't need any medical attention, which she didn't. Valerie was completely fine, although I'm guessing that's the last time she's ever getting behind the wheel again. I just don't understand how you could carry on for eight whole hours without thinking it's probably best to stop off and get some help. Nutter.
To read about the drunk driver who crashed into a 'don't drink and drive' sign, click HERE.