Hairy legs have always been a bit of a taboo for women and even though it's perfectly natural, most people think that they look and feel kind of gross, which I suppose is why most women shave or wax their legs. At least that's why I imagine, I've never really thought about it before.
Images VIA
Anyway, in a bizarre move, a company named Contrado is offering you the chance to buy hairy leg leggings, presumably so that women can walk around with the appearance of hairy legs without actually having them. Not really sure why anyone would want to do that – unless maybe you were trying to dress up as a transforming lower half werewolf for Halloween – but it seems like the women in these promo shots are having a lot of fun with them, so maybe there's something I just don't know about them?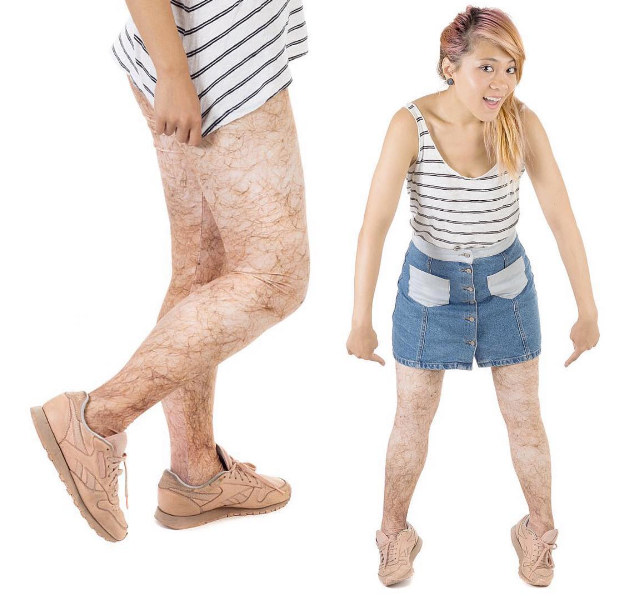 Yeah, looks like the most fun you can have whilst keeping your leggings on right? Contrado editor Claire Belle Freed said the following about the leggings:
The shocking clothes angle is something that we are seeing more and more, which is why we are keen to supply these designs to our customers as well.

We are seeing more and more customers create outrageously funny, 'intimate' and even taboo designs.

From naked body parts on men's boxers and women's underwear, superfan designs of their favourite celebs, to very clever and witty slogans on our t-shirts and dresses, there isn't anything we haven't seen – or anything that shocks us anymore!
Great soundbite there pal. Worryingly I can't actually find a link to buy these or how much they are on the site, but maybe they're sold out or something because they're so popular. They've been going viral on the internet for a while now though, so if you look hard enough they must be out there somewhere.
For more hair, check out the world's largest ingrown hair. Yuck.