Gina Carano was the latest Hollywood star to get cancelled last week after sharing some quite worrying views on social media, comparing being a Republican in America at the moment to being a Jew in Nazi Germany. Oooooosh.
Featured Image VIA 
Unsurprisingly, this led to her firing from 'The Mandalorian', but Gina has now announced via Deadline that this won't affect her opinions or her sharing of them and that she's also teamed up with Ben Shapiro's conservative website The Daily Wire to work on a new film. Apparently Shapiro and The Daily Wire are getting more into the movie business in order to 'combat the authoritarian Hollywood left'. Great.
Here's what Carano had to say about her announcement: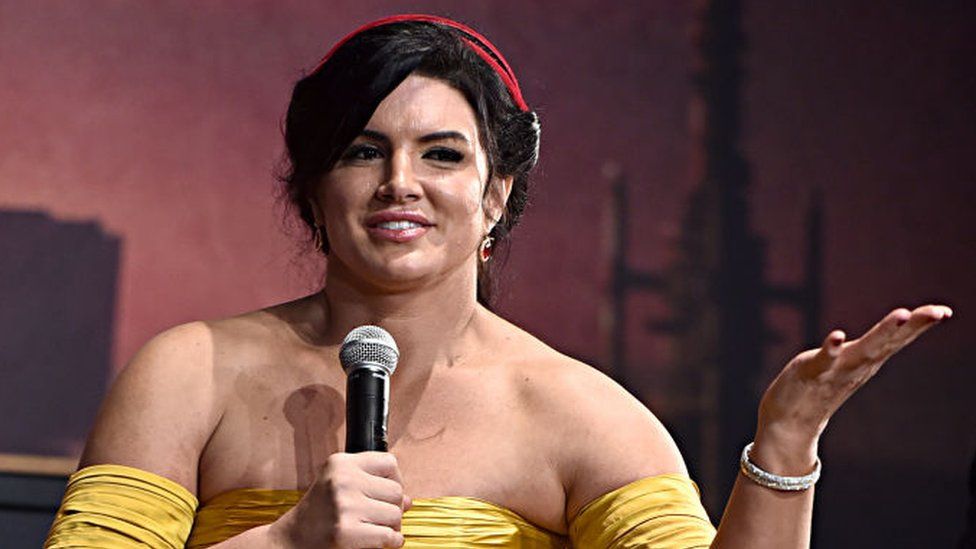 The Daily Wire is helping make one of my dreams — to develop and produce my own film — come true.

I cried out and my prayer was answered. I am sending out a direct message of hope to everyone living in fear of cancellation by the totalitarian mob.

I have only just begun using my voice which is now freer than ever before, and I hope it inspires others to do the same.

They can't cancel us if we don't let them.
Good for her I guess? I'm not sure if she should have been fired from 'The Mandalorian' – although obviously I think it's fairly grim that she thought it was OK to compare her current situation to that of Jews in Nazi Germany – but it seems like she was warned about sharing such posts by Disney and still continued to do so, so you can't really blame them for getting rid of her in that case. All she had to do was keep her mouth shut and everything would have been hunky dory.
Seems so strange to me that she still had to share that opinion – she just couldn't keep it to herself – even though she likely knew it wouldn't end too well for her career wise. Although maybe things are on up for now she doesn't have to keep quiet and can make a movie that hardly anyone is ever going to see? Good for her like I said.
For more of the same, check out David Letterman getting cancelled for an interview he did with Lindsay Lohan eight years. It's pretty outrageous in all fairness.