Everyone knows the best part of Christmas are those pigs in blankets and everyone always wants more of them, but it's somewhat of a surprise to hear that someone is creating an absolutely giant 25kg one for London this holiday season.
Featured Image VIA 
The move comes courtesy of the London food festival Taste of London at Tobacco Dock, East London on 21 November, where they'll displaying the giant treat for the opening night of the festival. The food item has been dubbed 'The Notorious P.I.B.' and will be created by Simon 'The Butch' Taylor, founder of the Surrey Hills Butchers.
The pig in blanket will be 1000 times taller than a regular one, standing 2 metres tall and 70-80 cm wide, wrapped in over 10 metres of bacon. It'll basically be bigger than a regular person. Here's what Simon had to say about it: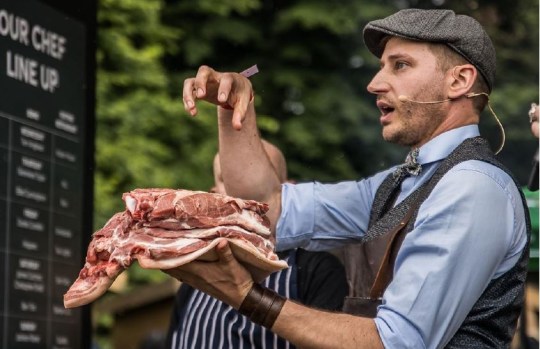 I have been lucky enough to work in traditional butchery for over 25 years – that's over 25 Christmases and a lot of pigs in blankets!

I couldn't imagine a more fitting way to pay homage to each of these years than by creating this at the festive edition of Taste of London.
I mean it does sound like something that you're gonna wanna sample with your own two eyes really doesn't it? If you head down you'll also be able to put it in your mouth and scoff down on it as well, although I'm not really sure what's that gonna look like on your plate. Gonna be damn tasty though mmmmmm.
For more of the same, check out this news that there might be severe pigs in blankets shortages this year beacause of Brexit. Not good.