A video shared on the r/Ghosts page by Reddit user Spidersaredisgustang has captured the moment a ghostly figure emerged from underneath a trampoline in Norway – and many people are saying it's the ghost from 'The Ring'.
Featured Image VIA
The person who uploaded the clip captioned it:
This video was filmed by a friend of my friend's brother a few years back.

In the left corner of the video, you can see a figure dressed in white, with black hair, crawling out from under the trampoline… To this day, we have no idea who the person was.
See for yourself:
Here's a link to a better, clearer video via Reddit because it's impossible to embed here for some reason.
Well I think that's pretty definitive isn't it? That's 100% the ghost from 'The Ring' crawling out from underneath a trampoline in Norway. I mean do you have a better explanation? Because I'm all ears if you do: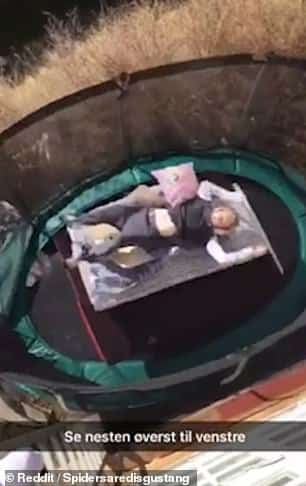 Don't know about you but my first thought is we basically need to burn Norway to the ground. It's just like when you see a spider running across your room and your first instinct is to set the whole house on fire, except you're dealing with a supernatural monster and so you should actually get the hairspray and lighter out this time. Every chance the ghost from The Ring would survive a fire but it's got to be worth a try at least.
For footage of Pablo Escobar's ghost spotted during demolition of the drug lord's Colombian mansion, click HERE. Can't argue with the evidence.