Another victim of the COVID-19 pandemic, the US Open Golf Championship was bounced from its traditional Father's Day weekend platform. Instead, the annual golf classic, recently the third of golf's three North American-based majors to be contested, will tee up second in 2020, from Sept. 17-20 at Winged Foot in Mamaroneck, NY.
The PGA Championship will lead things off Aug. 6-9. The Masters, usually the start of the major season for the golfing world, brings up the rear this year. The world's best golfers will gather Nov. 12-15 at the Augusta National Golf Club.
The British Open, the fourth major, has been canceled for 2020.
Winging It
Due to COVID-19 restrictions, the usual qualifying tournaments for the US Open had to be shelved. The 2020 field will consist entirely of exempt players. There are 11 past US Open champions who meet the exemption categories and are eligible to participate in this year's event.
That group includes Woods (2000, 2002, 2008), Brooks Koepka, who claimed successive titles in 2017 and 2018, and Gary Woodland, last year's winner at Pebble Beach.
Other ex-champs who are also eligible are Lucas Glover (2009), Dustin Johnson (2016), Martin Kaymer (2014), Graeme McDowell (2010), Rory McIlroy (2011), Justin Rose (2013), Webb Simpson (2012) and Jordan Spieth (2015).
This will be the sixth occasion the US Open plays the rugged test of fortitude that is Winged Foot. It has a reputation for crushing the souls of even the world's best golfers.
1929: Keeping Up With Jones
When two-time US Open champion Bobby Jones opened with a three-under par 69 in the 1929 US Open, it looked as though the legendary amateur star was going to tame the mighty Winged Foot layout. The course, as it turned out, had other ideas.
Jones would be the only player to finish among the top 10 to break 70. A second-round 75 dropped Jones to two shots off the pace being set by Gene Sarazen and Al Espinosa.
Following up with a 71, Jones gained a three-stroke advantage over Sarazen heading into the final round. In fact, with four holes to play, Jones only needed three bogeys and a par and the title was his. But he finished triple-bogey-bogey-par-par and ended up in a 36-hole playoff with Espinosa.
While Jones found his game in the extra holes, Espinosa completely came apart. Jones shot 72 through the first 18 to gain a 12-shot lead. He followed with a 69, while Espinosa shot 80.
The 23-stroke margin of victory is the largest ever recorded in a golf major.
1959: Friendly To Casper
They didn't come back to Winged Foot again until 1959, when Billy Casper fashioned a one-stroke victory over Bob Rosburg.
Casper took the lead in the second round and never relinquished it. Even a final-round 74 over the par-70 layout didn't cost him the crown. His four-day total of two-over 282 got the job done.
Winning the first of his two US Open titles, Casper made hay on the greens. He required just 115 putts over the four days. That's 29 under the greens in regulation average of 144.
1974: All Hail Hale
The 1974 US Open wasn't a tournament as much as it was a war of attrition. Hale Irwin was the ultimate survivor of what was labeled the "Massacre at Winged Foot," winning with a score of seven over par. It was the second-highest winning total in the history of the tournament.
A third-round of one-under 69 gave Tom Watson a one-shot lead over Irwin heading into the final round. But he ballooned to a 79 on the final day and finished in a tie for fifth with Arnold Palmer and Jim Colbert.
Irwin finished with a three-over 73 and won by two strokes over Forrest Fezler.
1984: Warm And Fuzzy
In 1984, Fuzzy Zoeller added another chapter to Greg Norman's heartbreak at majors, defeating the Australian in an 18-hole playoff to claim the title.
Zoeller and Norman both finished 72 holes at minus-four. They were the only players to break par in the field.
The playoff proved to be no contest. Zoeller birdied the first two holes, while Norman opened par-bogey, giving Zoeller a three-shot advantage. He never looked back, shooting a 67 against Norman's 75 to win by eight shots.
Zoeller is the only player to break par while winning the US Open title at Winged Foot.
2006: Too Much Phil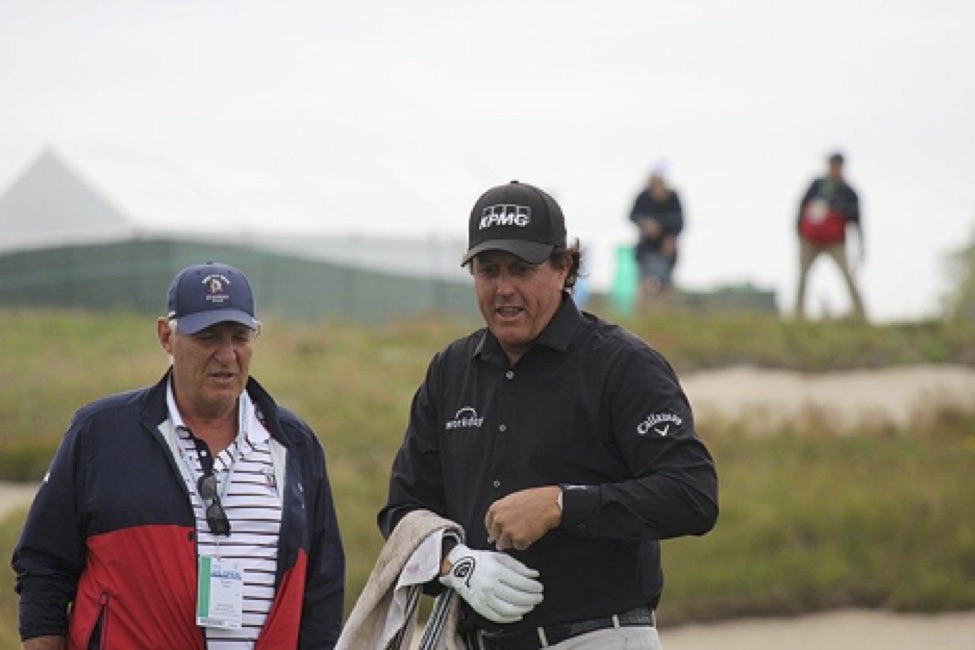 Featured Image VIA 
The previous visit to Winged Foot in 2006 also brought an incredible ending. Phil Mickelson teed it up on 18 on Sunday in the day's final group needing only a par to win the title. But Mickelson drove wildly into the rough off the tee, embarking on a comedy of errors and bad decisions that would see him finish with a double bogey and a one-shot loss to Australian Geoff Ogilvy.
"I am such an idiot," Mickelson said after his loss.
Ogilvy won with a five-over par score for 72 holes.
Jim Furyk and Colin Montgomerie also finished a shot off the lead. It was in this tournament that Tiger Woods missed the cut at a major for the first time as a professional, ending his record-tying streak of 39 consecutive cuts made at majors.