I often write on these pages about how the best thing about Christmas is 100% pigs in blankets, but I've also expressed my concerns about how the current obsession with ridiculous food trends could lead to someone ruining even pigs in blankets for me, and this might just have happened with the announcement of a special pigs in blanket ice cream for this Christmas.
Images VIA 
The frankly weird ice cream flavour is going to be served at Fabio's Gelato in Hitchin, Hertfordshire and will blend up bacon, sausage, vanilla ice cream and maple syrup and be served inside a Yorkshire pudding. I dunno about you but that sounds completely rank to me and like it wouldn't work in the slightest, but if you want to pay money for this monstrosity then it will set you back around a fiver depending on what size you get.
Fabio explains his decision to come up with the monstrosity as follows: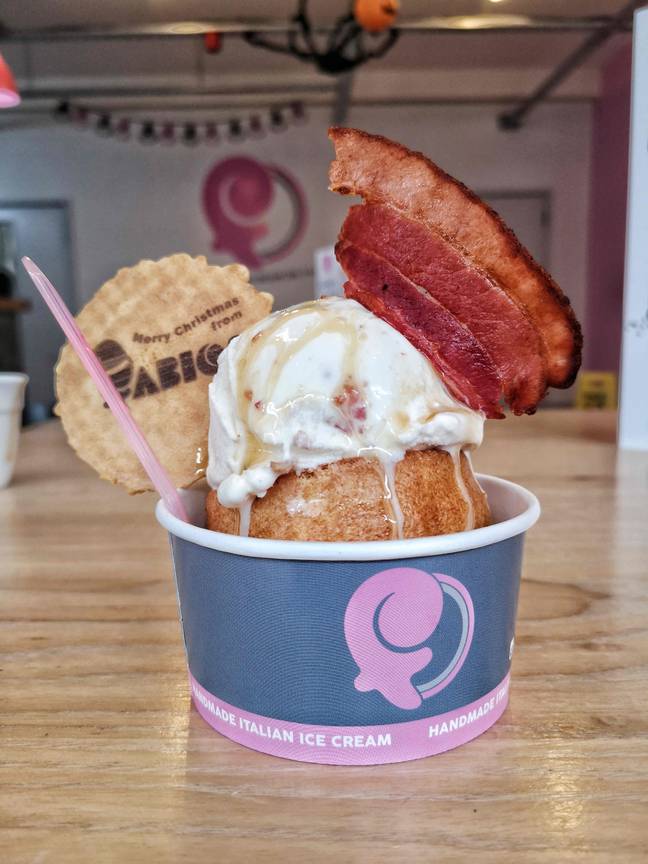 Having had bacon on pancakes and chips dunked in milkshake, we were hoping for that spectrum of flavours.
It's cold, sweet and creamy with a sweet and salty maple-smoked flavour, and an aftertaste of sausage pigs in blankets.
It really works – think bacon maple pancakes. Bacon makes anything taste nice, even Brussels sprouts!
There's a huge divide before anyone tries it. We hear 'Yuck' 'Oh my god' and 'no way'.
Then when they try it their faces turn – from closed, screwed-up eyes to wide open eyes and a smile.

Followed by 'Oh yeah, it does taste like bacon'.

We were brainstorming Christmas flavour ideas and joking about how far we could take it.

We then set about making pigs in blankets work.

Our friends and family all laughed but they are used to our crazy ideas and flavours, and said if anyone can make it work you guys can.
I mean I'm still sceptical but I suppose if I ever found myself in Hitchin then I would have to check it out just because the whole concept is so weird. Can't really see myself ever heading to Hitchin ever though so I doubt that's gonna be on the menu. Please feel free to let me know how it is if you do ever end up there though!
For more of the same, check out this giant 25kg one that is coming to London in the next couple of weeks. Almost as dumb as the ice cream.