Art is at times meant to be challenging and confrontational, but it seems like someone really missed the point of that in this story.
Images VIA 
We're up in Oriel Mostyn in Llandudno for this one where a gay artist named Paul Yore has had his artwork removed from a gallery because it was too homophobic and received too many complaints. I think that's kind of the point there?
Anyway, Paul's piece was called Taste The Feeling 2018 and wa sa mixed-media textile quilt hand-sewn from mostly recycled fabric that depicted what it was like to be queer in the year 2018. However, the use of gay slurs in the artwork hasn't gone down well within the gay community and they've forced it to be removed.
Yore himself wasn't too happy about this and said the following about it: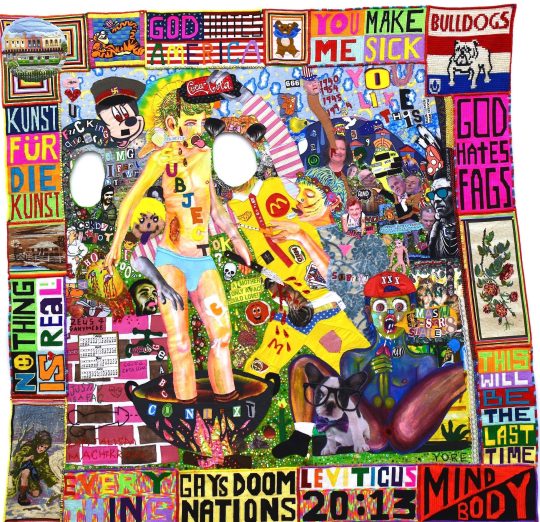 My work is very personal, explicitly addressing homophobia from my own perspective growing up queer in a deeply Catholic household.

The use of (religious) homophobic language in the work is a deliberate and reflexive strategy for working through my own experiences of such homophobic abuse and violence.

My work also mirrors the current socio-political moment: debased, divided and driven by fear and greed.

Therefore, I see my work as a tool for stimulating thought and discussion, and sometimes this involves challenging preconceived notions of what art can be about.

Art experts from around the UK selected the work from hundreds of entries, based on its quality, value and unique queer perspective.

I feel it is incumbent on the gallery to keep the work on display, to explain and contextualise their selection, even if some find it challenging, as this is the positive role art institutions can play in society.

As a queer artist, visibility and dialogue are imperative to survival.

It is deeply traumatic to have the work, and therefore my voice, silenced in this way. I have shown the work before, and have only ever had supportive responses.

Even at the opening event in Llandudno, I received much positive feedback regarding the work, so I am really surprised by the complaints and censorship.

As a gay person myself, the last thing I would wish is to offend any member of any minority community.

However, it is important to acknowledge that not all LGBTIQA+ people share the same views.
Yeah I mean I totally agree with him. It sounds like his artwork was meant to provoke a reaction and start a conversation and it's done exactly that, so it kinda defeats the point of the gallery even putting it up in the first place if they're just gonna take it down when a few people complain. You gotta stick to your guns on something like this and own it, not back down at the first sign of someone disagreeing with you. Really poor show.
For more of the same, check out these parents reacting in the worst possible way to their son coming-out. Holy moly.