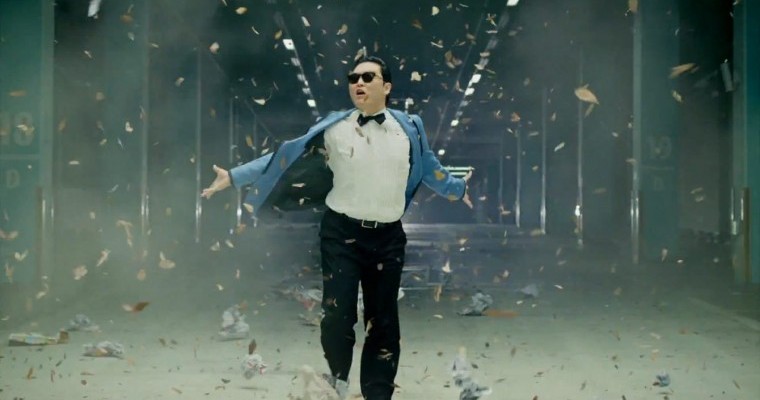 I'm getting pretty fvcking sick of typing fvcking 'Gangnam Style' into Google images and picking a different fvcking picture every time I have to write a fvcking article about fvcking Gangnam Style.
Cheers to Rob Proietti for this one. Thanks a fvcking bunch.
Seriously, though, Gangnam Style is going to destroy the world. Which does actually give the song a fresh new slant and resurgence of interest. And the news now is that it's already begun.
I showed you yesterday that Nostradamus predicted Gangnam Style would coincide with the apocalypse. I wasn't sure if that quote is even from Nostradamus because I had a little root around the internet and couldn't find any proof that he actually said/wrote it, and I wasn't prepared to read his book, so I wrote it anyway as if it was fact. 'Cos, you know, that's what journalists do, right?
But this new evidence pretty much proves everything in that article, and then some. Gangnam Style is no longer the marker, or the messenger. It is no longer the event that signifies the apocalypse. It's the thing that's fvcking causing it.
I bit the bullet, held my breath, and clicked that link that took me to The Sun's website. I did that so that I can bring the story here, and save all you innocent Chirpsers from suffering the sight of that dreadful publication. And now I have returned, smelling slightly of stirred shit and boob jobs, to bring you the terrible news that a few days ago 46-year old father-of-three Eamonn Kilbride collapsed and died at his work Christmas party in Lancashire, after joining in with the dance to Gangnam Style.
His wife Julie explained, "Eamonn had not complained of being ill and it was so sudden. …  He had just finished dancing to Gangnam Style with his pals on stage when he came back over to me. … He then said he was going to the toilet because he had a bit of chest pain. … Then he walked round the corner and collapsed."
So, there you have it. It's already too late for Eamonn. It may already be too late for all of us. I won't be surprised if more and more people start randomly dropping all over the world, full-on The Happening style. Except this time we know what's causing it, and it isn't the fvcking plants.
Stop listening to it. Stop watching it. And stop doing the fvcking dance.
Or else Gangnam Style is going to be the death of us all.
(On a serious note, to anyone who knew Eamonn, our thoughts go out him and his family. He actually seemed like a top bloke. The Sun's article is a lot more compassionate and informative than ours. Sorry.)
☛ More: Celebrities Fear The End Of The World In 2012
☛ More: Madonna Performs Gangnam Style With PSY 
☛ More: Celebrities That Look Like Mattresses