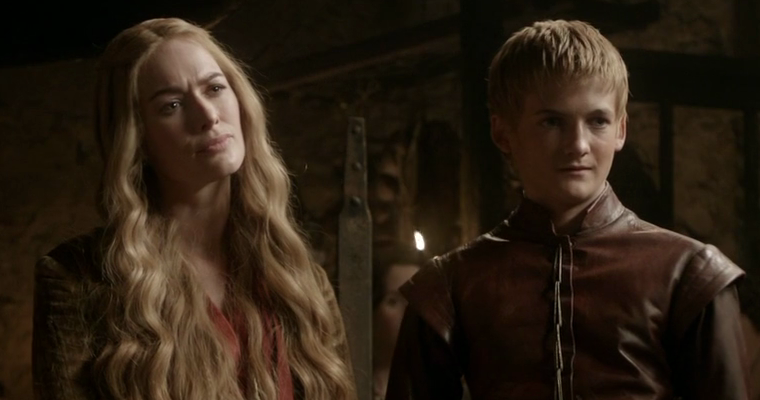 Game of Thrones Series 2 started on Sky Atlantic on Monday but just before I start, I am no way a fan of the fantasy genre and by fantasy I mean anything with dragons, trolls, witches, vampires, pixies, elves, warlocks or any of that shit. I've not seen any of The Lord of the Rings films. I don't sit in Games Workshop all day discussing why the Lord of the Rings books are better than the films. However, I DO like Game of Thrones and here's why you should too.
The first season was truly epic television: it had a strong cast of British actors, excellent dialogue, gripping story lines following several different powerful families across the fictional seven kingdoms of Westeros and in addition to this was also beautifully filmed. Everyone is fighting to sit on the Iron Throne, a menacing looking chair made out of swords and they will do anything to gain control of the seven kingdoms.
There's trickery, conflict, stabbings, lying, deceit and a lot of intercourse. In fact, there is a lot of sexy time in this show with some of it including midgets. It's not just thrown in there to get the ratings up (and older mens' blood pressure) it actually serves a purpose. In one episode, Lord Baelish, who runs a brothel as well as being the treasurer of the seven kingdoms, watches two prostitutes getting it on and explains how he knows how 'to fvck people and how people like to get fucked' coaching them through the process. Not something you'd see on Downton Abbey. He does quite a lot of that, not coaching prostitutes, just generally fvcking people over.
The second season has picked up from the end of last season, plunging straight back in to where it left off like we've just left for an AD break. The current King of the seven kingdoms is this little shit called Jofree (who's mum was the queen and actually slept with her brother, so Jofree is an inbred bastard) who is up to no good and now everyone wants to claim the throne. All the main families are plotting against him, none more so than Stannis Boratheon who claims to be the rightful heir to the throne. All the families are still at war and the Starks (the most Northern sounding family you've met) want to declare the north a separate state from the seven kingdoms. Oh and Daenerys Targaryen (who is bloody lovely) has given birth to some dragons and plans to use them to wage war. It's setting up it's stall very early on for a strong season and even without two of it's biggest actors, Sean Bean and Mark Addy having been killed off, it looks like it has lost nothing.
It's not the sort of show you can just sort of pick up if you haven't seen it before, there's too much going on and there's nothing worse than watching a show when you have no idea what is going on. The best thing to do is to some how watch the first season because you might just struggle with the new season. There is plenty of references to what has happened through the dialogue and subtext but it might not be enough. The only thing I thought this episode really needed was a big opening scene, maybe giving some sort of hint to what had happened in the past season and setting the tone for this season. In the first season, the show opened on an amazing scene where men from the night's watch went over the wall and were attacked by a group of mysterious beings called the white walkers (see attached video). This isn't a show to be missed, forget the fact that it is a fantasy programme. It's as well written as The Sopranos, Boardwalk or The Wire and is just as gritty and intense. Just imagine those shows but in clothing from a production of Robin Hood.
[yframe url='http://www.youtube.com/watch?v=zhonEowCBUw']