One of the best episodes from the sixth season of Game of Thrones involved Cersei getting her revenge on those responsible for her infamous walk of shame, culminating in a scene where Hannah Waddingham's character Unella is kidnapped and tortured by Cersei herself.
Featured Image VIA
The episode ended with Unella being left tied up in a room with The Mountain, and as the door closed with The Mountain looking down at her, the implication was that he was about to have his wicked way with her.
Sure enough, Waddingham has now confirmed that the original plan was to actually film a whole damn rape scene (via Collider):
She was meant to be raped by The Mountain, and I think they'd [bosses] had so many complaints about the rape of Sansa that they chose not to go with it.

I think they possibly changed it when I was mid-air flying to Belfast because suddenly I got sent these new sides that said that I would need a wetsuit top.

And I thought they'd sent me the wrong bits. And sure enough, when I got there, I was then put in a wetsuit top and I was like, "Because?" And they went, "Oh, it's waterboarding instead".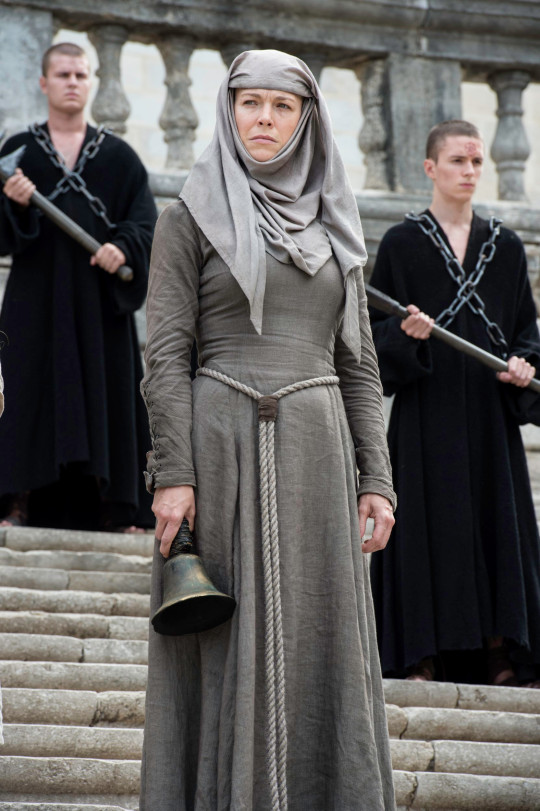 Turns out the waterboarding scenes were brutal enough:
It was the worst day of my life.

Lena [Cersei] was uncomfortable pouring liquid in my face for that long, and I was beside myself.

But in those moments you have to think, do you serve the piece and get on with it or do you chicken out and go, "No, this isn't what I signed up for, blah, blah, blah?"
TBH, ending the episode with the door being shut and Unella wailing in fear was probably more effective than any rape scene would have been.
It was pretty clear they were suggesting that was about to happen anyway, so no real need to play it out on film and spark a whole new wave of backlash, given the reaction to the Daenerys and Sansa rape scenes earlier in the series. Wise move, producers! Probably a huge relief for the actors and crew too.
Previously, the actor who played the Night King has said that he wishes Game of Thrones ended with the White Walkers murdering everyone. You and us both buddy.