We all love eBay, right? Come payday, and with the first slice of disposable income pie in your hands/smeared all over your fingertips, one could be forgiven for getting carried away in a frenzied, late-night bidding war – for a 6-foot Game of Thrones replica 'dildo throne'.
What could be greater than waking up to find a throne of quivering black dildos measuring 6 feet tall, 4 feet wide and 3 feet 6 inches deep (plus wheels) en route to your front door? For one unknown eBayer, fantasy became reality last week with a winning bid of £650.
Back in March a dude named Ralph Jones had innocently retweeted a competition involving a dildo throne – and won it. However, something was threatening to spoil Ralph's fun. That something was girth. The innocuous dildo throne was too wide to fit inside Ralph's home:
Picture trying to slide that through your front door. Imagine clinging onto the numerous dicks and using them to steer the throne into your living room. A throne that takes up as much space as a young horse.
Ralph got his thinking cap on, possibly whilst sat atop the throne, and decided to re-home it in the next most obvious place: work.
What I wanted more than anything else was for the colossal monster to be delivered to work, where I could sit on it every day, happily typing away.
Featured Image VIA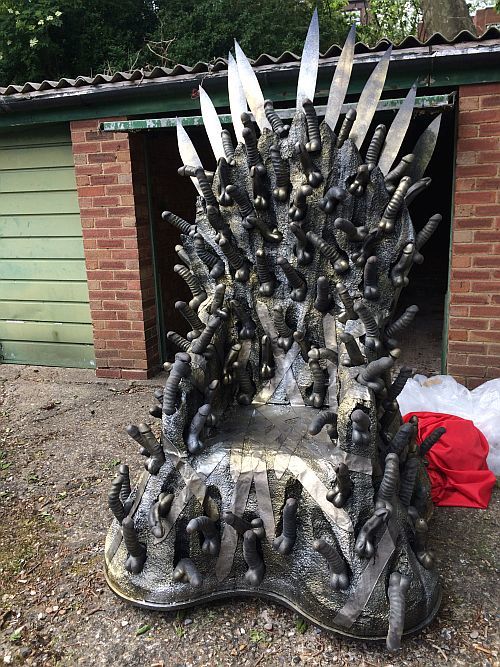 Image VIA
Unfortunately, Ralph's plan was thwarted once again by the throne's girth. It was too big for the office:
Like a deranged sex loon, I began to broadcast increasingly desperate pleas on Facebook and Twitter: 'Serious question here. Does anyone have any storage space in which they'd be able to temporarily keep a huge throne of dildos? Let me know if you have sufficiently wide doors.'
Things took a turn for the worse when Ralph was then unable to find storage space big enough for his throne. Shit started getting real.
I was told that the company storing the throne needed me to find a home for it in the next two weeks or the throne would be given to someone else.

The thought of someone else getting their grubby mitts on my dildos made me genuinely furious, so I did what any sensible person would do: I rented a garage.
Whilst the throne enjoyed a brief sojourn in its new abode, it was not to last. Ralph came to realise that such a magnificent item deserved to be loved, not kept in a garage. That was when he decided to auction it on eBay.
I think people should know that the dildos should not be used for sexual pleasure. They should also know that I am overwhelmed by the attention my big throne has received since going up on eBay and that this has been a truly life-changing few weeks.

They should know that, if they feel as though their lives might be in a rut, they can always become the owner of an enormous chair covered in dicks. It provides a great deal of energy; it's a transformative experience.
You can watch a short video about the throne below, then check out this video about a guy who made a huge gun to fire dildos at people afterwards.